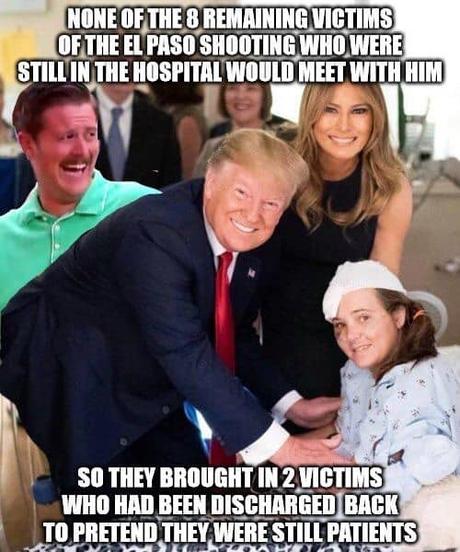 The victims of the El Paso mass shooter, those still in the hospital, all refused to let Donald Trump visit them.


Why should they?
They knew Trump's hate speech was responsible for inspiring the white terrorist who shot them. I suspect they also knew, judging from Trump's many attempts to demonize them (and all brown-skinned people), that Trump's visit wasn't because he cared about them.
It was nothing more than a campaign event, designed to make Trump look good and deflect his responsibility for his own hate speech. That's why the media wasn't allowed to see the visits. The only photos allowed were done by Trump's people.
Trump cares about only one thing -- making himself look good. Personally, I proud of the El Paso victims for refusing to let Trump use them as pawns in his campaign.