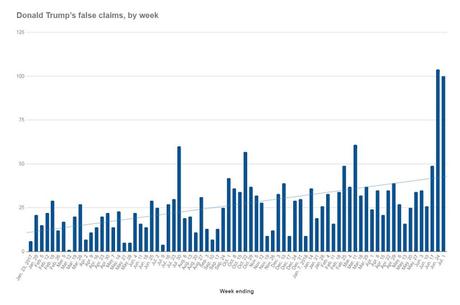 The charts above are from The Toronto Star. That newspaper, like some others has been trying to keep track of Trump's lies. The top chart shows Trump's lies by weak since he took office. Note that the number of lies told seems to be increasing.
The second chart shows where he tells the most lies. He tells the most lies in his speeches, which makes sense because he only speaks before his true-believers -- the people who will believe anything he says, no matter how outrageous or untrue.
Instead of lies, this newspaper calls them "false claims". That's because they say they can't prove all of them were intentional lies -- some may have resulted from confusion or bad information he was given. I disagree with them. Trump has clearly shown that he has no respect for facts or truth. He says what he wants to say with no regard for its veracity. That's LIES to me.
One thing is certain. In only about a year-and-a-half in office, Trump has already told many more lies than the other 44 presidents combined. And there is no doubt that he will continue to lie to the American people every day he is in office.