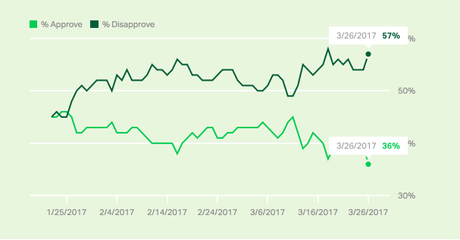 The Gallup Poll does daily tracking of a president's job approval -- questioning about 1,500 individuals. They then post an average of the last three days. The latest 3-day average for Donald Trump was 36% -- a record low for a president still in his first 90 days since Gallup has been doing this tracking.
And it's not just Trump himself that the public disapproves of. A recent Economist YouGov Poll (done between March 19th and 21st of a random national sample of 1,500 adults, with a 3.3 point margin of error) asked respondents if they had a favorable or unfavorable opinion of  six of Trump's closest advisors -- Bannon, Conway, Sessions, Tillerson, Kelly, and Kushner (see chart below). All of them were upside-down in their numbers (meaning they were viewed unfavorably more than favorably).
This is fast becoming not only the most unpopular president of modern times, but also the most unpopular administration of modern times.