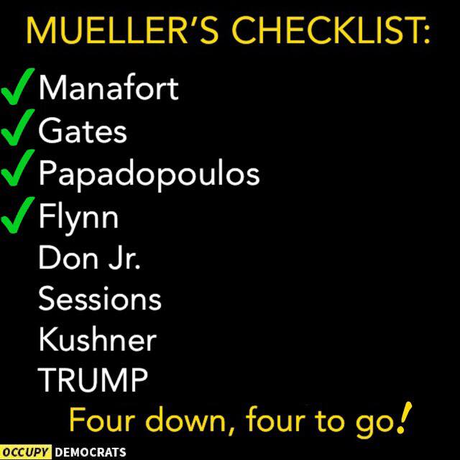 In eight years, the Obama administration did not have a single member of it indicted or convicted of criminal misconduct. It was one of the least corrupt administrations in our nation's history.
But that clean administration has been followed by a very corrupt one. Donald Trump has been in office only a little over 10 months, and already his administration has four associates that have been indicted and two that have pled guilty to criminal violations.
The latest is Michael Flynn, who Trump had appointed as his national security advisor. Flynn pled guilty on Friday to a charge of Lying To The FBI. That charge could get him 5 years in prison, but he is cooperating with the Special Prosecutor so the sentencing has been delayed (and if he spills the beans on Trump will probably avoid prison).
This is very bad news for Trump, because Flynn was as close to him during the campaign, in the transition, and early in his administration. In effect, he knows where the bodies are buried -- and he's ready to tell it all to investigators. Sources say that Flynn says Trump not only knew about his aides colluding with Russian officials, but actually ordered that collusion.
The time to seriously consider impeaching Trump is drawing near!