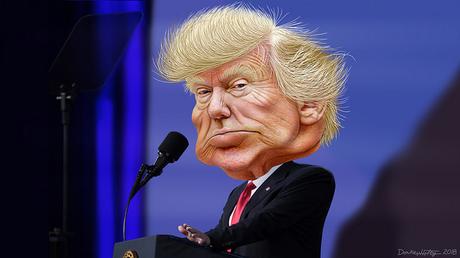 (Caricature of Donald Trump is by DonkeyHotey.)
Donald Trump railed about Hillary Clinton refusing to protect classified information by using a private e-mail server (even though it has been shown that no classified information was exposed to anyone who didn't have the right to see it). Unfortunately, he has not been so strict about protecting classified information in his own administration -- allowing many to see that info without the proper security clearance. Here is how NBC News puts it:


I

f there was one issue Donald Trump campaigned on more aggressively than the others in 2016, it was the importance of handling classified information — when it came to Hillary Clinton's private email account and server. 

"She set up this illegal server knowing full well that her actions put our national security at risk and put the safety and security of your children and your families at risk," Trump said in Phoenix, Ariz., on Oct. 29, 2016. . . .

Why is this stroll down memory lane important? Yesterday, we learned that White House senior adviser and Trump son-in-law Jared Kushner — who had access to highly classified information and was even viewing the Presidential Daily Brief — lost his top-security clearance.  That came, of course, after NBC News reported that scores of top White House aides, including Kushner, lacked permanent security clearances. And also yesterday we learned from the Washington Post that officials "in at least four countries have privately discussed ways they can manipulate Jared Kushner, the president's son-in-law and senior adviser, by taking advantage of his complex business arrangements, financial difficulties and lack of foreign policy experience, according to current and former U.S. officials familiar with intelligence reports on the matter."  And who can forget this story from last spring? "President Trump revealed highly classified information to the Russian foreign minister and ambassador in a White House meeting last week, according to current and former U.S. officials, who said Trump's disclosures jeopardized a critical source of intelligence on the Islamic State." 

We've seen the Trump White House engage in plenty of hypocrisy over the past year — the vows to clean up the "swamp," the promises that wealthy Americans wouldn't benefit under the tax law — but its carelessness about who is seeing classified information might be the biggest hypocrisy of all.