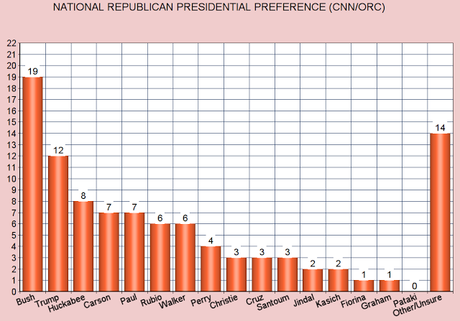 A new national CNN / ORC Poll has been released, and it shows the volatility of the Republican race. They queried 407 Republican (with a 5 point margin of error) and 490 Democrats (with a 4.5 point margin of error). Several Republicans who had polled well in previous polls have dropped back into single digits -- Huckabee (8), Paul (7), Rubio (6), Walker (6), and Cruz (3). Meanwhile Trump has raced up to second place with 12 points, and Bush leads with 19 points.
Trump seems to have struck a chord with the xenophobic teabagger in the GOP base. They like his attacks on Mexico and immigrants, because they like to blame immigrants for the economic problems caused by their own party leaders (lack of jobs, low wages, sluggish economy, etc.).
I'm still not sold on Trump being a credible candidate though. Can he appeal to elements in the party other than the xenophobes? I don't think so. His favorable/unfavorable rating is upside down among Republicans. But we'll see as this race progresses.
Hillary Clinton is the clear leader, and this poll has Joe Biden in second place (four points ahead of Bernie Sanders), even though Biden has not indicated whether he is a candidate or not. The Democratic numbers are below, along with a breakdown of support for Clinton and Sanders.