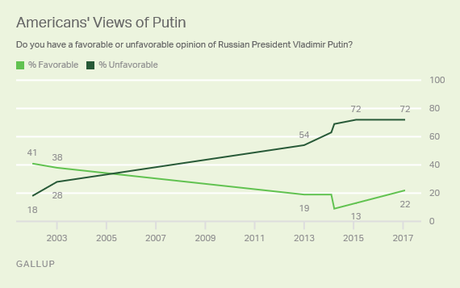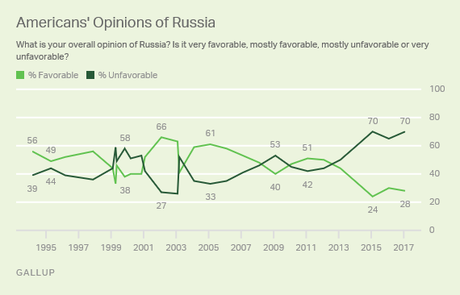 Donald Trump has made it perfectly clear that he respects Vladimir Putin and admires his strongman leadership of Russia. But on this, as with many other things (raising minimum wage, building border wall, banning muslims, repealing Obamacare, protecting the environment, etc.), Trump is out-of-step with the wishes and opinions of the American public. And on this issue, he is way-out-of-step.
Only about 22% of Americans have a favorable opinion of Putin, while a whopping 72% have an unfavorable opinion of him. Those are slightly worse numbers than Americans have for the country of Russia (28% favorable and 70% unfavorable).
You may note that the chart on Putin has risen slightly recently. That's because some of the Republican base is now following the lead of their president. Putin's favorability among Republicans has risen from 12% in 2015 to 32% in 2017.
These charts are from a recent Gallup Poll -- done between February 1st and 5th of a random national sample of 1,035 adults, with a margin of error of 4 points.