Consider this a good deed, those of you in the UK. A sort of comedic relief from your post-referendum chaos. Actually, if you're reading this in the US, it's also a good deed because I'm reminding you of the idiot to avoid in the November election. 
Yes, I'm talking about Donald Trump. Again. Because it's as bad as a car wreck/accident and I'm unable to look away no matter how horrific it gets.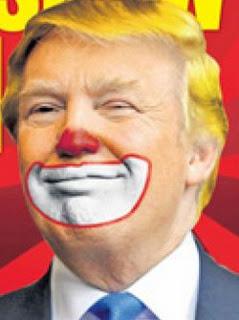 Here's a little taster of what he's said in the last few weeks. And this is all ver batim folks. 
(Of Saddam Hussein) - "He was a bad guy - really bad guy. But you know what he did well? He killed terrorists. He did that so well. They didn't read them the rights. They didn't talk". (Tuesday, July 5th) So what does he think the drones are doing now, in their hunt for ISIS? They're not exactly sitting them down beforehand with a copy of their legal rights under international law now are they? 
He also loves to get on Twitter and rant. Unfortunately of late, someone seems to be persuading him to think before he presses send, (what a spoilsport) because his Tweets aren't nearly as hilarious as they used to be but if you watch and wait, there's always a few - 
"Sleepy eyes Chuck Todd, a man with so little touch for politics, is at it again. He could not have watched my standing ovation speech in N.C. " (July 6). This is what he does when a well respected political journalist in this case, dares to fact-check him or otherwise highlight hie errors. He claims he's not thin-skinned but I don't see any other politician reacting this way. And - choosing nick names based on someone's appearance. Pot-kettle anyone?
And always patting himself on the back - "Raised a lot of money for the Republican Party. There will be a big gasp when the figures are announced in the morning. Lots of support! Win." (July 5) - There wasn't. A big gasp, that is. 

Some of the top Republicans aren't going to their party's convention in a few weeks, and people are running away in all directions when the Vice President role is mentioned. His response? - "The only people who are not interested in being the VP pick are the people who have not been asked." (July 4) Billy No Mates perhaps? 
And on the day after the terrible police shootings in Dallas, the guy who has called for a ban on Muslims entering the US and who calls Mexicans rapists and drug dealers, had this to say " (our) nation has become too divided."
Gee, I wonder why.