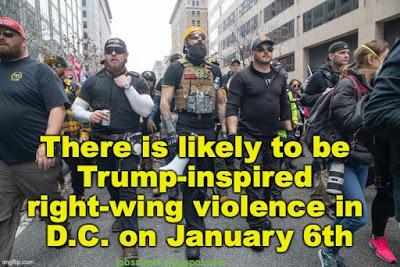 January 6th is a day that will likely go down in fame in our history.
The Congress will meet to certify the results of the Electoral College vote for the presidency, and some Republican members of Congress will disrupt that process by challenging the votes (even though they have no evidence of fraud).
They will fail to derail the certification with their dubious bit of political theater. But that's not all that's happening on the 6th.
Donald Trump is asking his supporters to come to D.C. on that day, and seems to be inspiring them to commit violence when they do. District of Columbia police know this, and they are prepared -- but I doubt they'll be able to prevent the violence from occurring. 
Here's part of how Colbert I. King (in The Washington Post) describes what will happen on the 6th:
Trump is actively inciting supporters to amass in Washington to pressure Congress to not approve the 2020 elections results. "Big protest in D.C. on January 6th. Be there, will be wild!" tweeted Trump. He followed that up with a Wednesday tweet to supporters, "JANUARY SIXTH, SEE YOU IN DC!"
And Trump's forces are coming. 
Four rallies are planned for the day. The Post reports that "threats of violence, ploys to smuggle guns into the District and calls to set up an 'armed encampment' on the Mall have proliferated in online chats about the Jan. 6 day of protest. The Proud Boys, members of armed right-wing groups, conspiracy theorists and white supremacists have pledged to attend."
The Proud Boys turned out the last time right-wing protesters were here, on Dec 12. As dark approached that night, The Post reported, Proud Boys were observed putting on Kevlar helmets, bulletproof vests, protective forearm coverings and rucksacks. Some carrying long poles, long-handled black flashlights, collapsible batons or even cases of beer, they left a downtown D.C. hotel and began marching around in groups, chanting "Whose streets? Our streets!" The Trump-loving Proud Boys were spoiling for fights. Four churches in downtown D.C. had Black Lives Matters signs removed and damaged.
Imagine Congress assembling to count electoral college votes in the midst of Trump-encouraged chaos.
Are D.C. residents, local law enforcement and America up to the challenge?
Nothing would please Trump diehards more than the eruption of an all-out conflagration around Capitol Hill. (Trump: "Be there, will be wild!") Obstructions that throw congressional proceedings in disarray. A breakdown in order that would give Trump an excuse to call out military force in response, citing the Insurrection Act, which allows the presidentto send troops when "any insurrection, domestic violence, unlawful combination, or conspiracy" prevents enforcement of state laws in a manner that deprives residents of that state of their federal constitutional rights.
And get this: There is no intrinsic limit on how long he can employ troops to enforce federal law, reports University of Texas School of Law professor Steve Vladeck
Trump isn't calling his followers to Washington for sport. Or to make lawmakers nervous. Or to dominate the news cycle.
Trump wants to overturn the 2020 election and take the presidential oath on Jan. 20.
This is our current state. How will democracy look on Inauguration Day?