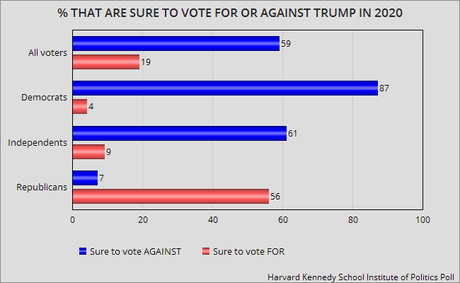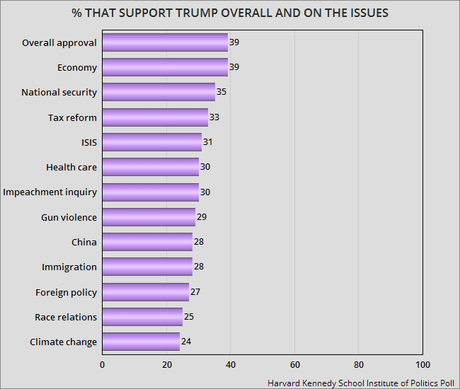 These charts reflect the results of the Fall poll of the Harvard Kennedy School Institute of Politics. They questioned 2,075 18 to 29 year olds between October 15th and 28th, and the survey has a 3 point margin of error.
The two charts above show what young voters think of Donald Trump -- and it is not good. Only 39% approve of the job he is doing, and he gets even less on most of the issues. And a whopping 59% say they are sure to vote against him in the 2020 election, while only 19% say they are sure to vote for him.
The chart below shows the candidate preference of the poll's 588 likely Democratic primary voters (with a 4 point margin of error). The blue bars show the current support for candidates, while the green bars show the support in this same poll  in the Spring of 2019.
Both Sanders and Biden show about the same support now as they had in the Spring. The candidate that has shown the most improvement is Elizabeth Warren -- who jumped from fourth place with 3% last Spring to second place with 22% currently. That's a huge 19 point gain, and shows a lot of young voters are starting to move toward Warren.