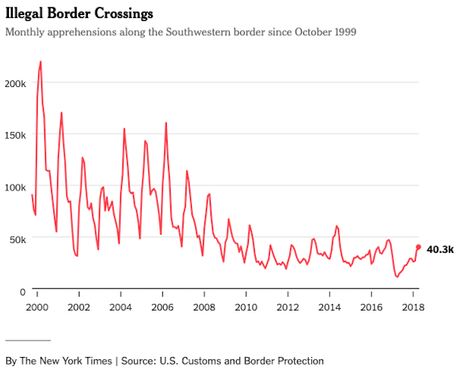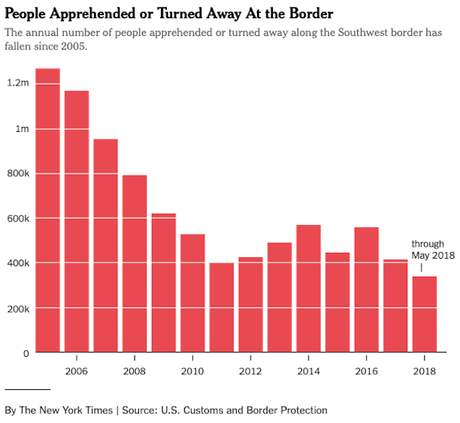 Donald Trump doubled down on his demand for money to build a wall between the United States and Mexico. He has shut down the U.S. government, and says it will stay shut down until Congress gives him least $5 billion to start construction on that wall (he has told supporters that construction on the wall has started, but that is simply not true). It's starting to look like this may be a very long shutdown -- maybe the longest in U.S. history. Trump has said he would hold out as long as necessary.
His chances of getting that wall are nonexistent. Both Speaker Pelosi and Minority Leader Schumer have said there will be no wall. They understand that the expensive wall (which would cost upwards of $25 billion) is not needed (see charts above) -- and with yearly deficits of about a trillion dollars a year, cannot be afforded. With the Democrats solidly in control of the House now, Trump is not going to get any wall money above the $1.3 billion offered for border security (not a wall).
Trump has tried to blame the Democrats for shutting down the government, and seems to believe the people of this country are behind him. He is wrong, and today the House will make that very clear. They are poised to pass a series of bills to re-open the government (and it includes the $1.3 billion for increased border security). This same thing has already passed the Senate on a voice vote.
Once the House passes the bill, it will be up to the Senate and Trump to either vote to open the government or keep it shut down. If they don't approve the bill, it will just further convince Americans that it is Trump and the Republicans that want the shutdown -- not Democrats.
The question is not whether Trump will get his money for the wall -- that's not going to happen. The question is how long will he delay before giving in and signing a budget bill without wall money. The longer he holds out, the more he will hurt only himself and his party. A majority of Americans already blame them (see chart below), and that will only increase as the shutdown continues.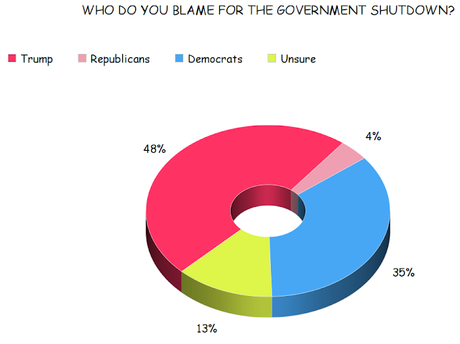 This chart uses information from the new Economist / YouGov Poll -- done between December 30th and January 1st of a national sample of 1,500 adults, with a margin of error of 2.9 points.