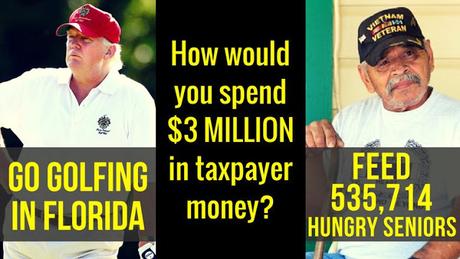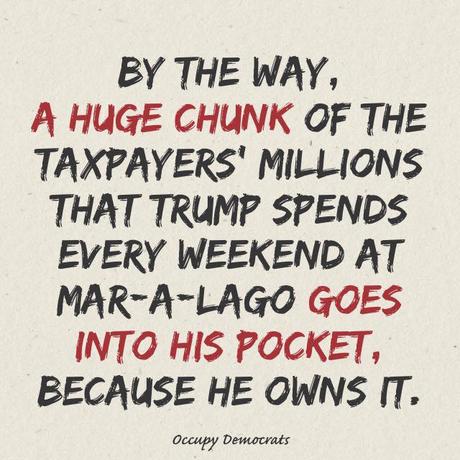 Donald Trump has only been president for eight weeks now, and in that time he has spent more time away from the White House than any other president in their first eight weeks. In fact, he has gone to a facility that he owns on seven straight weekends (the only exception being his first weekend in the White House).
Five of those visits, including this last weekend were to his Florida golf club, Mar-A-Lago. Each of those visits cost the U.S. taxpayers at least $3 million. On the other two weekends, he visited his golf course in Virginia and his D.C. hotel. Note that every time he leaves the White House, it's to go to a facility that he owns -- a facility that he makes money from (since he has refused to extricate himself from his business interests). In short, he is making himself richer at the expense of taxpayers.
But while he doesn't mind making himself richer, he wants to cut programs that help the poor and elderly in this country. His budget would cut programs like free lunches for poor children and hot meals for elderly shut-ins (Meals on Wheels), among others. He is not only greedy, but uncaring.
Meals on Wheels, which provides the only hot meals many elderly shut-ins get in a day, only costs the federal government about $3 million a year -- the cost of one Trump weekend at Mar-A-Lago.
It didn't take long for Trump to show his true colors -- that he only cares for himself. This man is truly a national embarrassment.