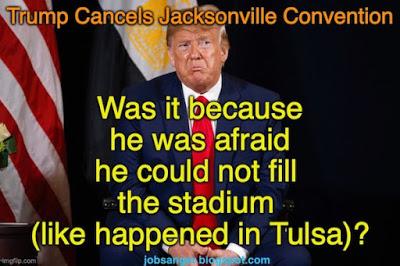 Donald Trump has been insistent on having an in-person convention with thousands of adoring Republican fans.
When North Carolina would not guarantee he could do that, he moved the convention to Jacksonville, Florida -- and continued to brag about the size of the crowd he expected.
On Thursday, he suddenly did an about-face, and cancelled the Jacksonville convention. He said his aides and campaign staff were assuring him the convention would be great, but he told them "it's not the right time for that". He went on to say, "There's nothing more important in our country than keeping our people safe".
Do you believe that? To me, it sound like what comes out of the south end of a northbound bull. It just doesn't sound like Trump.
Trump is the supreme narcissist. He has repeatedly shown us in the last three years that he doesn't care about people. The only person he cares about is himself. And even his friends and family can be quickly thrown under the bus when they don't act in what Trump considers to be his best interest.
Some reporters are saying his aides were warning him that the in-person convention would cause bad press, and would be called a "super-spreader" event. That sounds a little closer to the truth. Trump doesn't like bad press.
But I think the reason is even simpler. Trump was afraid that too many people would not show up, and he would be giving his acceptance speech to a sparse crown (like happened in Tulsa -- when he bragged about filling a stadium and only 6,000 showed up).
A lot of GOP officials were already saying they would skip the convention -- out of a fear of the Coronavirus, which is out-of-control in Florida. Trump wanted a huge cheering crowd to start his campaign, and his inflated ego would be bruised if he had to speak to a tiny crowd of mask-wearers.
Now he can give a televised acceptance speech, and lie about the size of the viewing audience.