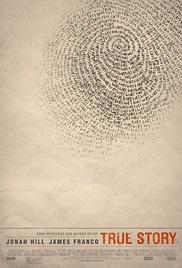 Director: Rupert Goold
Writer: Rupert Goold, David Kajganich (Screenplay) Michael Finkel (Book)
Starring: Jonah Hill, James Franco, Felicity Jones, Maria Dizzia, Ethan Suplee, Conor Kikot, Charlotte Driscoll, Stella Rae Payne, Rbert John Burke
Plot: When disgraced New York Times reporter Michael Finkel meets accused killer Christian Longo – who has taken on Finkel's identity – his investigation morphs into a game of cat-and-mouse.
There may be spoilers the rest of the review
Verdict: Slow
Story: True Story starts as we meet Michael Finkel (Hill) who has been working for the New York Times for years and has risen up the ranks but his latest story leaves him disgraced. Searching for a new story which could bring him back into the spotlight he gets drawn into the story of Christian Longo (Franco) who claimed to be him after killing his family.
Michael hears the story and starts to write a book on the events while Christian has to wait for his court case but this soon becomes a battle of the two minds who try to prove the truth.
True Story gives us a film that is filled with so much potential but because it is based on the true story it loses all the twists it could have. I do feel we could have had more but by the end it is just something we have seen before and sadly just comes off very slow and not shocking one little bit.
Actor Review
Jonah Hill: Michael Finkel is a journalist who has become disgraced for fake evidence in a story. looking to get back into work he finds out about a killer who used his name while being arrested and this story could give his career the second chance. Jonah is good but never reaches the levels we know he is capable off.
James Franco: Christian Longo is being charged for killing his family but for some unknown reason he gave Michael's name when arrested. Christian becomes friends with Michael as he tells his story but is he just trying to get off the charges or does he really need help? James is good but like Jonah is capable of much better.
Felicity Jones: Jill Barker is the wife of Michael who is supporting his through his transition between jobs and his interactions with Christian. Felicity is solid but doesn't get true screen time to make the impact her character could have got.
Support Cast: True Story doesn't have the biggest supporting cast but the ones we have are just involved with the final story.
Director Review: Rupert Goold – Rupert gives us a slow moving film that lacks the moments that makes us go wow which this story needed.
Crime: True Story does put us into the middle of a crime story where we have to decide ourselves if Christian is guilty or not.
Mystery: True Story gives us a mystery to solve if it wasn't Christian but never really gives us a chance to solve anything else.
Settings: True Story keeps the settings within the ones you would expect a court case and interview with a potential murder to be held.
Suggestion: True Story is a real slow burner of a film which just doesn't get started before it finishes. (Try It)
Best Part: Hill and Franco do work well together.
Worst Part: Too slow really.
Believability: Based on a real story.
Chances of Tears: No
Chances of Sequel: No
Post Credits Scene: No
Oscar Chances: No
Runtime: 1 Hour 39 Minutes
Tagline: Some stories are beyond belief
Overall: This films lacks the moments these style of films need to reach all of the potential behind them.
Rating