I often hear conversations in the blogosphere that one cannot be a certain age and be a personal style blogger. What does a blogger do once she hits 35? As a personal style blogger who is closer to 40 than 30, I feel it's even more important to showcase your personal style when you're older. Women have plenty of resources for fashion when younger, be it magazines, TV shows, and yes blogs. But blogs – quality blogs with quality photos and quality style aren't as easy to find when you're over 40. So when I came across
Annette's
relatively new blog,
Lady of Style
, I cheered hooray! I have been a subscriber for a few weeks and love seeing elegant yet wearable personal style by a woman with class and taste. I find Annette stylish and inspiring and was thrilled when she agreed to be part of my
True Fashionista series
.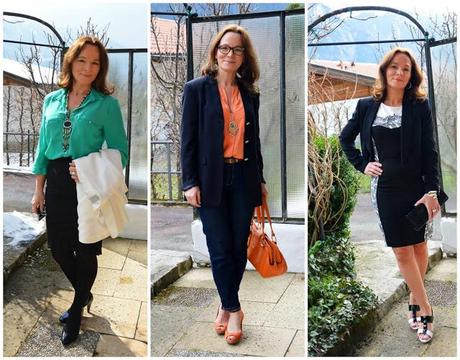 Annette's
life motto is,
"Style is a reflection of your attitude and your personality."
This is clear in how her personal style fits not just her figure, but her age, her lifestyle, and her passions for travel, fashion, and home décor. Her blog,
Lady of Style
is geared towards the mature woman, but as you can tell by me it can be inspiring to women of all ages, especially those who are looking for style that is appropriate for the workplace. Annette works for NATO and deals with high ranking officers and civilian guests on a regular basis, but doesn't lose her style when at the office.
"Just because you have the freedom to wear anything you want and don't need to care what others say, you should not ignore a sense of good taste."
   - Annette, Lady of Style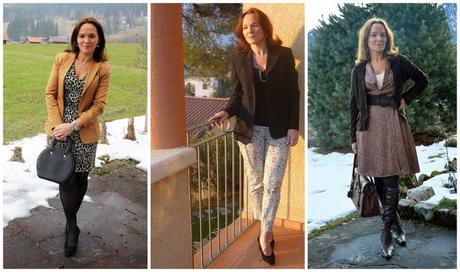 Though
Annette
resides in Bavaria, Germany she wears brands
(H&M, Zara, MANGO)
and silhouettes that are relatively easy to find in the States. She admits that she does most of her shopping online since she lives in a small town, and swears by her seamstress for custom fits. Annette's style is classic with a touch of current trends, sophisticated yet never dowdy. She has a base of neutral and classic shades that are complemented by bright colors and more trendy of accessories.
"Attractive, mature and self-confident woman certainly don't need to cover up or wear conservative clothes in muted colours."
   - Annette, Lady of Style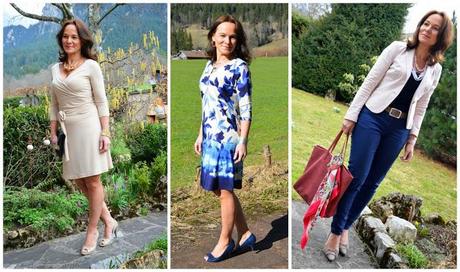 Annette
not only shares her personal style, but also discusses the topic of
style for women over 40
and how style and trends don't have to stop with a certain birth date. She proves in each post that style is achievable at any age, and that you can have fun with fashion and trends. Her pleasant demeanor is clear in each post, and her blog voice is positive and just as elegant as her personal style. I asked
Annette
the same five questions I ask of each
True Fashionista
; her answers:
How would you describe your personal style?
A feminine, elegant style which friends and fellow bloggers tend to call "sophisticated". Dresses are my favorite type of clothes and I wear them as often as I can!  Even when I was younger (I turned 50) I was never a casual girl and over the years my style more and more evolved. When I call it "ladylike" people always associate it with a beige cashmere twinset and a pearl necklace! But that's not me – I love combining trends, youthful elements and colours with more elegant pieces. That's my style!
Where did you get your passion for fashion?
I grew up on the countryside with not much inspiration when it comes to fashion and trends! Yet my passion started early by reading fashion magazines and putting together my outfit for the next school day the night before. I even made little drawings of my outfits ;-) Many years I worked for an international airline, traveled a lot and always have been fascinated by what we nowadays call "street style"! I love the natural elegance of Italian or French ladies, something I often miss here in Germany.
Where do you find sartorial inspiration?
I follow a lot of blogs, international magazines and naturally I am addicted to Pinterest ;-) My 18yr old daughter started her blog FashionFlirt in 2011 and I was involved in getting her started. It was Alena who introduced me to the blogosphere before I started Lady of Style - a fashion and style blog for mature women - in January 2013.
We share our passion for fashion, we go on shopping trips to London together, with her I watch livestreams of fashion shows and we even share clothes and accessories!
My style icon is Olivia Palermo. Even she is a lot younger, I love her ageless style.
What is the difference between fashion and style?
I wear a lot of high street fashion, whether it is MANGO, ZARA, H+M or Wallis – that is fashion. The way I combine a new dress with the right shoes, add a vintage necklace or an old handbag from my wardrobe and people say "you look so elegant!" – that is style.
Very often my readers can't believe that a dress I am wearing actually was on sale for 15€ at H+M. It is not about designer pieces… ok, I wouldn't refuse a Céline bag ;-) but it is about how you put your outfit together. I am far from being perfect but for me styling is quite easy.
Any advice for a woman who is starting to find her personal style?
Usually a woman knows the type of clothes she naturally feels comfortable with. That is a good start! It doesn't help if you are an outdoors person and somebody tells you that you should wear a shift dress and high heels.
Go from your comfort zone and find accessories to enhance your current look. I always find
shoes most important as they can be the highlight of your outfit or completely kill it. Don't pick accessories randomly, put some effort in creating a new look.
Go shopping with a friend and try out various themes like spring floral prints, pastel colours, try on a dress in a bright colour! Let her take photos, compare the looks and see what flatters you. If you are not sure it might take a while until you really know "that's me and this is how I want to look!"
It is true, if you feel good, it shows.
***
The purpose of the Friday
True Fashionista
series is to show women who use clothing to express their personal style. Each woman has a different, unique look and opinion on clothing and fashion. These women inspire me in my clothing choices, and possibly their bold sartorial statements will inspire you. Stay tuned, there will be a featured
True Fashionista
every Friday. And if you know of a True Fashionista in your life, tell us about her in the comments
...
you never know she may end up being featured!
Follow Me | Twitter | Facebook | Instagram