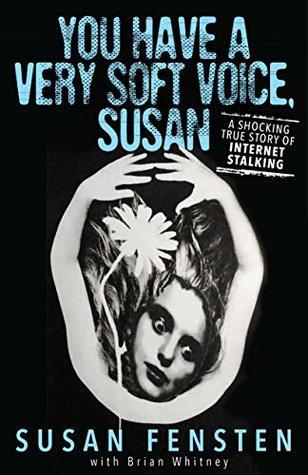 ABOUT THE BOOK:

This is not a typical story of Internet stalking. It is an unusual case of friendship and deception so pitiless and unyielding that it opened a door to Hell into the author's life. This is an unforgettable story for today's digital world driven by social media in all of its permutations and cruelest forms.
The story begins with Susan Fensten's online search for her father's family, a search that soon turns into a two-year frightening odyssey of internet stalking and threats when a posting on a genealogy message board brings her into contact with what she thinks are distant cousins, but what turns out to be a sociopath.
Through email correspondence with her new "family", evidence of mental illness, dark family secrets, a struggle over wealth and bizarre criminal histories emerge. She quickly becomes the focus of sexual obsession and suspicion, and her life is completely turned upside down. She soon becomes the target of dozens of frightening characters including real verifiable convicted sex offenders in an elaborate cyber-hoax that includes threats of kidnapping, murder, rape, torture and cannibalism.
Remarkable in its complexity, this story of Internet stalking is also a sinister and shocking journal of madness. Described by the FBI as a case "in a category by itself," This book is a story about the Internet, the search for family, a friendship and a journey into the underbelly of American crime that raises questions about safety online and pushes the boundaries of our perceptions of what is real and what is not.
READ AN EXCERPT:
MY REVIEW: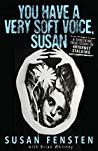 You Have A Very Soft Voice, Susan: A Shocking True Story of Internet Stalking by Susan Fensten
My rating: 4 of 5 stars
This book is a mind-bending trip!
Stalkers are the worst sort of criminal. The harassment can go on for years, completely upending a person's life. Living in constant fear makes life paralyzingly unbearable. In this case, the situation was made even worse due to the lack of protection given by law enforcement- which was especially true when this story took place. But now, with the internet and social media, stalking has become easier, more common, creepier, and even more terrifying and harder to trace.
This book is a non-fiction accounting of one of the most bizarre incidences of internet stalking I've ever heard of. In 2003, after the death of her father, publicist, Susan Fensten, went online hoping to locate any paternal relatives she might have. She hit pay dirt- or so she thinks- but she soon comes to regret her decision when it becomes clear her new 'cousins' have a few sociopathic tendencies.
For the next few years, her life became a living nightmare. Susan's small support system could be less than consistent with their support, often leaving her feeling even more lonely and isolated.
However, when the FBI finally got involved in the case, they uncovered an unbelievable web of mind-boggling cruelty and depravity they described as a case "in a category by itself."
There have been many online advancements since 2003, both good and bad, and I couldn't help but think of how different things are now. High speed internet was just taking a fast hold in 2003, making dial up mostly a thing of the past for most users. Facebook launched in 2004, followed by Twitter in 2006, which provided predators, scammers, and stalkers entirely new avenues to explore and exploit.
However, I think we have also become more careful and cautious, and less trusting now. We've all heard horror stories about online crimes and creepy stalkers, and countless other ways people have devised to harass, bully, shame and embarrass people- not to mention all the daily 'hacks' where personal and sensitive information is stolen.
Still, despite knowing how dangerous the internet is- how dangerous it has ALWAYS been, this story was absolutely shocking! I can't even begin to imagine going through something that bizarre. This is one of those books you will have to read to believe!
This may be one of the strangest true crime books I've read, and it is beyond creepy. It will make you stop and think about a lot of things- especially trust. Although we take as many precautions as possible, protect our privacy the best we can, and stay hyper aware about phishing and scams, sometimes despite all our preparedness, we are still vulnerable, often betrayed and blindsided in ways we never would have seen coming or thought possible.
Overall, this was a troubling, edgy story that will leave you thinking twice about your interactions online and wondering if it's worth the risk...
GRAB A COPY HERE:

https://www.amazon.com/HAVE-VERY-SOFT-VOICE-SUSAN-ebook/dp/B07P6JFW4X/
https://www.amazon.com/Have-Very-Soft-Voice-Susan/dp/B07SN5HVNX/


https://www.barnesandnoble.com/w/you-have-a-very-soft-voice-susan-susan-fensten/1130874466
ALSO AVAILABLE WITH YOUR KINDLE UNLIMITED SUBSCRIPTION! 


ABOUT THE AUTHOR: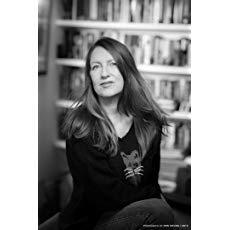 Susan Fensten is a native New Yorker and a book publicist. She studied film and art at Hunter College and fine arts painting and drawing at The Art Students League. Susan's photographs of gritty old New York City in the 1980s have been published in David Hammons Bliz-aard Ball Sale (Afterall Books: One Work; Distributed by The MIT Press, 2017) and in St. Marks is Dead: The Many Lives of America's Hippest Street (W.W. Norton & Company, 2015), along with stories from her childhood downtown in the 1960s. She lives in New York.