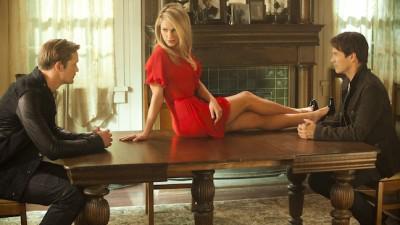 "It felt like a good time because Sookie and Eric have gotten as close as… well, probably as they can get in this short period of time," executive producer and writer, Alexander Woo, tells The Hollywood Reporter about the choice to restore Eric's memory.
"This was the time for this roadblock where he gets his identity back," Woo continues. "And the fun of it for the viewer, I hope, is to see how that affects the relationship they had established while he didn't have his memory."
The Hollywood Reporter: Can you explain Eric's sadness as a result of his memory returning?
Alexander Woo: Alex Skarsgard did an extraordinary job of conveying that. He was an innocent again, but all of the things he had done as a vampire kind of vanished, and we saw at his core this kind of humanity that I think Sookie fell for. I think the way Alex has played Eric is very moving and very touching. Both he and Sookie kind of know that that can't last forever. As we're getting toward the end of the season, this builds us towards the climax of what's going to happen between Eric and Sookie, because now they've fallen for each other and the person he was when they fell for each other is now gone again. And whether they can last will feed their story line at the end of the season.
THR: Some fans have still not forgiven Bill for all that he has done to Sookie in service to the former queen. Do you and the other writers believe you've done a good job of portraying Bill as someone Sookie can still be in love with?
Woo: I still think we feel very strongly that he was Sookie's first love, and there's something always very special about your first love. It wasn't all that long ago either. It's a very recent first love that was very, very deep. Even though there are all these things that have happened in the interim in the time of the show, we've had four seasons since they first met — but in their world, a little over a year. I think it still resonates that there is this awakening that came about in her life with Bill, and he will always be a very special part of her life. I think in the world that Alan has created Bill is certainly going to be a part of that world.