Every year SFX compiles a list of their top 50 vampires. As we all know vampires are very much "in" as far as pop culture is concerned. But not all vampires are alike. For the year 2012, all of our favorite True Blood vampires ranked very highly on the list including Eric (Alexander Skarsgård), Bill (Stephen Moyer), Pam (Kristin Bauer van Straten), Jessica (Deborah Ann Woll), and Russell (Denis O'Hare). So where did they rank and what did SFX have to say about them? Keep reading to find out!
Coming in at #2, Eric Northman outranked the likes of Spike and Angel from Buffy as well as a few Vampire Diaries characters save for 1. He ranked 41 on last year's list. But this year he almost topped the charts and here's why:
2. Eric the Viking. Once a phrase that immediately meant "flop comedy from the Monty Python guy". Now it means, "Top Nordic vampire hottie." Bill was supposed to be the alpha vampire on True Blood, but – although far from unpopular – he was eclipsed by his blond nightclub owner boss in the popularity stakes (if "stakes" isn't too sensitive a word to use). As in so many other cases (Spike and Damon, for instance) he benefitted from the fact that he didn't have to be the nice guy. Far from it – he's an utter git, chaining Lafayette (Nelsan Ellis) to a slave wheel, and tricking Sookie (Anna Paquin) into drinking his blood. Not to mention all the killing. But it's more than that. Eric is just so inherently cool. So cool it doesn't matter if he does a bit of killing while getting his hair dyed; or if he cries when his maker dies; or if he wears a shell suit. He remains untouchable cool. Hell, he's survived centuries with the name Eric. That's how cool he is.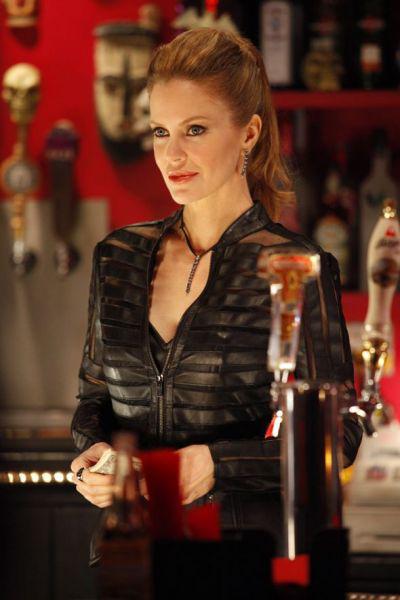 Eric may be charming, good looking, and an all around bad ass but he wouldn't be complete without #5 on SFX's list. Pam may be a snarky fashionista with little patience for humans but she's also fiercely loyal to her maker Eric. A new entry to SFX's list, Pam is a fan favorite amongst Trubies and SFX now too:
5. True Blood has come up with many memorable vamps, but none quite as reliably foul-mouthed as Pam. Her dialogue (which we can't reproduce here for taste reasons) is often the highlight of an episode. Devoted to her maker, Eric, she's also a bit of a badass… and kinda hot. And unlike Eric or Bill, she's never going to be won over by Sookie's charms. She may not be one of the show's main players, but she's definitely one of the most fun. And we loved her anti-Sookie rant in the season four finale.
Ranked #27 on last year's list, Bill Compton was Sookie Stackhouse's first love and after season 4 he's now the King of Louisiana proving he's not your typical love struck vampire, far from it in fact:
9. After seeing death up close even before he became a vampire in the American Civil War, there's no wonder True Blood's Bill Compton rarely cracks a smile. Played with seductive relish by Essex-born Stephen Moyer, he's the Bon Temps vamp who it's possible to believe we've only scratched the surface of.
Like Eric, Bill wouldn't be the same without his progeny Jessica. She's not only helped to bring out a different side of her maker but she's also managed to charm fans with her struggles to be a teenage vampire in the modern world. Also a new entry to SFX's list, Jessica comes in at number 11:
11. Jessica, a vampire so-so easy to love, because of her combination of naivety and sexual/vampiric awakening. She's the suppressed teenager who's suddenly discovered alcohol and is rebelling, but taken to ludicrous extremes. Savage and fragile, sensitive but headstrong, she a mass of adorable contradictions, whose fangs pop out at the most embarrassing moments. Stuck as an eternal teenager, doomed to losing her virginity each time she makes love thanks to a self-repairing hymen, she is one of True Blood's greatest creations.
A list of the top 50 vampires wouldn't be complete without this new entry to SFX's list. Russell Edgington came to True Blood's third season to be the villian of the year. By the time season three was over, Russell had successfully charmed audiences by killing a news anchor by ripping out his spine and declaring war on the human race on national television. This cemented his status as one of the most infamous villians of True Blood thus far:
21. There were a lot of things to grumble about in True Blood's third season, but King Russell wasn't one of them. The oldest and strongest vampire in the world, he's also one of the funniest. A charming psychopath with a hatred for humans, he was responsible for the single best scene in all of True Blood, when he ripped out a news anchor's heart, live on air, and declared war on humanity. That he was then squandered for the rest of the season was a shame, but no matter. The end of season four is pretty clear… Russell is coming back. Sookie and co had better watch out…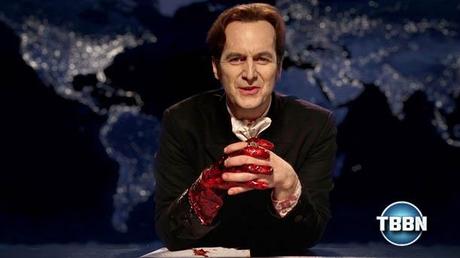 What do you think of these rankings? Was there anyone else who should have been included? Sound off in the comments below!
Source: SFX.co.uk- "Top 50 Vampires 2012″
Image Credits: John P. Johnson/HBO, Inc.