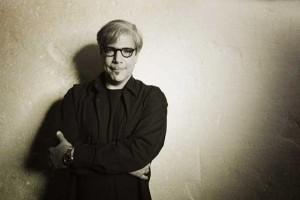 As a true True Blood fan, part of the draw to tune in each week isn't always about all the eye candy and the dramatic plot twists. Granted, these are definitely some of the reasons why True Blood continues to strong in the ratings, but for many Truebies, part of the allure of each episode is the vast music selection. And specifically with how the creators use a certain song in a certain scene. Sometimes, it's pure genius. For example, in this past Sunday's episode "Gone, Gone, Gone," the scene in which Russell Edgington (Denis O'Hare) and Steve Newlin (Michael McMillian) slow danced while surrounded by bloody bodies at a fraternity house, Katy Perry's upbeat "Teenage Dream" playing in the background. CBS Local recently chatted with True Blood Music Supervisor Gary Calamar, who said that the True Blood team had a good time debating what song would work best:
"We wanted a big, recognizable pop song that would show the twisted romance of Russell and Newlin… and would also work ironically against the drained college students. We tried Rihanna, Far East Movement, Maroon 5… but 'Teenage Dream' worked the best on all levels. Plus," he confesses, "Katy Perry is one of my guilty pleasures."
True Blood's episode titles are generally inspired by songs that play during the end credits, but the selection of music that plays from start to finish of each episode is, more often than not, utterly perfect – so smart and gritty – that you literally pulsate with fear and joy. Check out a  few examples below of how the True Blood team has worked it's musical magic:
Opening Credits – Jace Everett's "Bad Things"
Season 1, Episode 3 – "Soccer Practice" by Jonny McGovern: A practically naked Jason Stackhouse dances for V
Season 1, Episode 4 – "That Smell" by Lynyrd Skynyrd: Sam gets a whiff of Dawn's killer by rolling around in her bed right before the credits roll
Season 2, Episode 4 – "Louisiana Hot Sauce" by Sammy Kershaw: Jason salivates over Sarah Newlin's BBQing skills
Season 3, Episode 4 – "9 Crimes (Demo)" by Damien Rice: Vampires Bill, Russell and Lorena literally devour the life out of a stripper in the backseat of a limo right before the credits roll
Season 3, Episode 8 – "Head" by Otep: Jessica ravages a werewolf in the woods
Have any favorite True Blood music, Truebies?
Source: CBS Local – From Sun Records To Katy Perry, 'True Blood' Shows Musical Variety
Photo Credit: MySpace