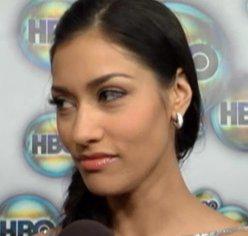 MTV News attended the HBO's fancy Golden Globes party last Sunday where they spoke to four members of the cast, Ryan Kwanten, Janina Gavankar, Carrie Preston and Joe Manganiello.  Each gave out a tiney hint about their characters for Season 5.  Add the info to your already growing fact sheet about what we can expect this upcoming season.
"Jason is hanging onto every shred of humanity as it is, and he was lucky to survive last season. He was on the brink of death several times," Ryan said of Jason Stackhouse's failed werepanther transformation. "This season he's finally becoming a man, I think. He's got responsibility in his life. He's in a position of authority too because Andy is not doing too well with being a sheriff."
Janina Gavankar, who plays somewhat damaged single mom/shapeshifter Luna, hit the nail on the head in emphasizing the fact that no one in Bon Temps stays happy for long, promising that things get especially interesting for Luna and that she will always dream of a stable relationship with Sam.
"I will always have hope for Sam. They are meant to be," Janina said. "Nobody understands you like another shifter."
Carrie Preston told us that the plotline with the demon baby is over (thank goodness) and that Scott Foley's mysterious character Patrick Devins will be stirring up some trouble.
"He's definitely there to muddy the waters a little bit. It wouldn't be 'True Blood' if you didn't have conflict, so I think it makes for a very interesting dynamic with Terry and Arlene this season," she said.
Last, but certainly not least, Joe Manganiello used some wonderfully choice words to drop the hint that sweet, lovable Alcide might be taking a turn toward the dark side.
"We've seen that he's a sweet guy; we've seen that he's the kind of guy that would be great in a relationship," Joe said. "I think that you're going to be introduced to a side of him that's going to slam you up against the wall and go for it."
Yeah. Pretty sure this, "slam you up against the wall and go for it" statement might be the best thing Joe's ever said.