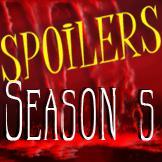 From TV GUIDE.
Christopher Meloni's face is splattered with blood. He's just shot his first staking scene for HBO's megahit True Blood — and he's seriously amped up.
"When that blood hit me in the face, I went, 'This looks awesome!'" Meloni says gleefully. It's nearly 11pm and it took two hours to set up the shot — called a "goo drop." A bucket of stage blood (with some latex blobs mixed in for guts) is suspended from a scaffold. Just below it hangs an empty suit of clothes matching what the actor playing the doomed vamp is wearing. As the stake goes in, the bucket empties through the garments, and the bloodsucker is no more. There's only one chance to get it right. And Meloni nailed it.
The actor's excitement is matched only by the seriousness of the character he plays: Roman, the 500-year-old head of the Vampire Authority with the weight of the world on his pinstripe-suited shoulders. He's chief executive not only of the vampire government but of their religion, too. "My first day on set, I recited a prayer in Aramaic," says Meloni. No separation of church and state here.
"Roman is a politician who has a dream," explains executive producer Alan Ball. "He was behind the coming-out-of-the-coffin [movement], something that's been in the works for at least a hundred years. But there are factions in the vampire community who want to go back to the Dark Ages and feed on humans. The biggest arc in Season 5 is the future of peaceful coexistence." Adds Meloni, "Roman's determined. He wants peace, but others have been trying to stomp out his path. Think Obama with very long incisors."
Tonight's stakee is one of these fundamentalists, a traitor to the Authority who meets the "true death" in the sleekly furnished conference room of an underground New Orleans compound Ball has nicknamed "the Vampire White House," where Roman and six chancellors govern the fractious vampire community.
Roman's pursuit of the conspirators will be a treat for Meloni fans who loved watching him solve crimes in his 12-season run as Det. Elliot Stabler on Law & Order: SVU. Says Meloni, "Elliot was free-form. Roman's more thoughtful — yet unafraid to pull the trigger. He's a man of action. Get the facts; get it done. But they both have a certainty of their view. They both think they're right."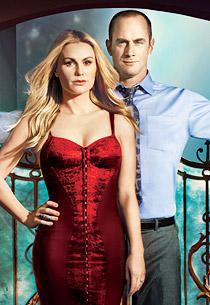 A major obstacle to Roman's political agenda has arisen, literally, thanks to two bloodsuckers fans know and love: King of Louisiana Bill Compton (Stephen Moyer) and Sheriff Eric Northman (Alexander Skarsgård). At the end of Season 3, the two buried crazed former vampire King of Mississippi Russell Edgington (Denis O'Hare) in cement instead of killing him as ordered. Now he has escaped, and Bill and Eric are dragged before Roman for judgment. (It doesn't help that they also killed the Authority's Nan Flanagan last season.) They bargain for their survival by offering to track Russell down and bring him in.
When the duo hit the road, "bromance" blooms. "They end up caring for one another," says Moyer, who will go behind the scenes to direct Episode 8 this season. "Me and Alex are mates, and it's been really enjoyable actually getting to stuff where we're not just bitch-slapping each other."
Bonding won't make up for the love their characters lost in the season ender when Sookie (Anna Paquin), the fairy-blooded blonde barmaid they're both in love with, told them she didn't want to be with either. "Bill has lost the thing that he believed in most, and he now is trying to find something else to believe in," Moyer says. But apparently he's not too brokenhearted for some sexy action. Teases Moyer: "There is an unlikely liaison at some point."
Fans of the Sookie-Bill-Eric triangle, take heart. Mid-season, Sookie teams up with her ex-lovers when they need her mind-reading skills to help question a human witness who saw Russell unearthed. Will she be able to keep her vow and stay away from them romantically? "She's trying her best to be independent and stand on her own, for better or worse," says Paquin, who in real life is expecting a baby with husband Moyer. "She wants to eliminate drama from her life."
True Blood premieres Sunday, June 10 at 9/8c on HBO.
For more on the new season of True Blood, pick up this week's issue of TV Guide Magazine, on newsstands Thursday, May 24!