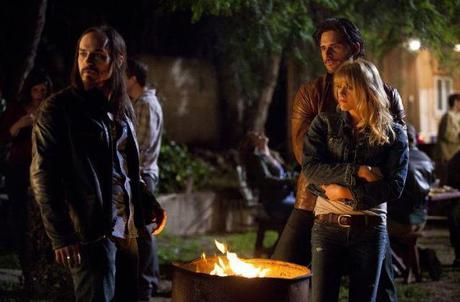 True Blood might be a summer away, but new scripts have already gone out to the cast members which means that I have even more True Blood Season 5 spoilers for you! On the heels of the casting call that we posted last week, we now know that Holly's (Lauren Bowles) two sons are hunters of some kind and it sounds like Marcus' (Daniel Buran) mother is heading to Bon Temps thanks to TV Guide's Mega Buzz:
Got any scoop on the next season of True Blood? — Tina 
NATALIE: Looks like more werewolves are coming to town — including the not-so-dearly-departed Marcus' mother — and they're not too fond of the new pack leader (Alcide?). In other news, we'll meet Holly's two sons, who are described as being "hunters." We're thinking they might have something in common with the townfolk of Salem, which is bad news for the gang from Ye Olde Shoppe of Scented Candles and Reanimation. (Then again, there are plenty of things to hunt in Bon Temps, no?)
So who do you think the pack master is now? Tell me in the comments below!
Source: TV Guide.com- "Mega Buzz: Bones' New Baddie, A Revenge Death, and Miami Romance"
Image Credit: HBO, Inc.