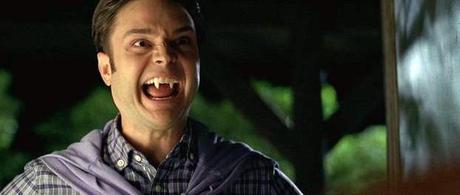 This year HBO came up with a pretty ingenious way to help celebrate the premiere of True Blood season 5. On Monday, they announced via True Blood's Facebook page that 100,000 tweets regarding Makers Day would unlock script pages from season 5 and it has happened! Below you'll find the script pages for reading involving Jason (Ryan Kwanten) and Steve (Michael McMillian) for episode 5.01, Turn Turn Turn. Happy reading and be sure to go over to True Blood's Facebook page to download your copy!
So what did you think of the scene? Sound off in the comments below!:
Source: Facebook.com- "True Blood "Maker's Day"
Image Credit: HBO, Inc.