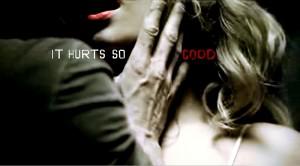 True Blood show creator Alan Ball officially announced this week that there will plenty more supernatural shenanigans headed to Bon Temps after season 4, saying:
"Well, everything ends. There will be an end for me on the show at some point. I just closed a deal to do another season. I don't have any desire to leave because I'm having more fun than I've ever had in my life."
Ball and actors Anna Paquin (Sookie Stackhouse) and Stephen Moyer (Bill Compton) did a press tour at the 2011 Television Critics Association conference, where a longer season 4 trailer was unveiled, and where Ball revealed that he's already planning stories for season 5. He teased that viewers will get a glimpse into how one of the vampires was made and the mythology of the show will be explored. Nothing exceptionally juicy yet, but knowing there's more in store for our favorite vamp drama once the witches take flight is all the news we needed to hear!
Source: Los Angeles Times – TCA 2011: 'True Blood' creator Alan Ball to return for fifth season
Photo Credit: HBO