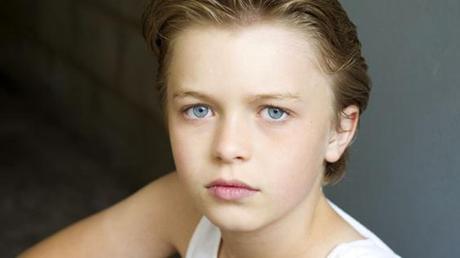 The Hollywood Reporter has brought some True Blood season 5 casting news to round out today! On the heels of the announcement that Peter Mensah has joined the cast as Authority Chancellor Kibwe, Jacob Hopkins has also joined the cast as kid vampire Alexander. Along with Mensah's role, Hopkins' character was called in episode 5.02 which also included Christopher Heyerdahl's character Dieter Braun.
Alexander was described by the Hollywood Reporter as being:
 An impetuous vamp who likes to taunt those around him
Prior to being cast on True Blood, Jacob Hopkins appeared on How I Met Your Mother and coincidenally had a role in the Stephen Moyer (Bill Compton) film the Priest.
Congratulations to Jacob! We'll get to see what he can do when True Blood season 5 begins airing this coming June.
Source: Hollywood Reporter.com-'True Blood' Finds the Vampire Authority's Child Killer: Jacob Hopkins"
Image Credit: Hollywood Reporter