SPOILER ALERT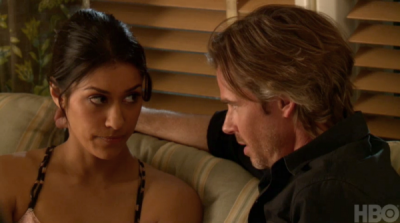 Janina Gavankar and Sam Trammell
Sam Trammell reveals more about his character's season 4 journey in a recent interview with The Wrap.
"I had the family kind of dynamic happen last season with my brother and my two biological parents, and by the end had cut them offf. And this season I have a different kind of family that I'm going toward."
Sam will meet Luna (Janina Gavankar).
"She's a shapeshifter, so I can really connect with her, and she's also very mysterious, and I think Sam is drawn to that. She's kind of like Sam in a lot of ways. He was and still is to a certain extent a mysterious character in town. … I don't think anybody knows about him killing two people.
In addition to her I meet these other shapeshifters and there's a real community of shapeshifters. This year we explore the mythology of shapeshifting."
Maybe Luna could help Sam with his anger issues.
"We saw him go off the edge little bit when he went on that drinking binge and almost killed that guy. But he was pushed pretty hard. It certainly was a breaking point when he beat that guy up last year. A lot of his anger issues came rolling back to the forefront. He's going to have to do a little bit of work on himself this coming year in terms of controlling his emotions."
And what about sex scenes?
"The sex scenes are really hard and its not really hard because you have to be naked — that's always sort of a thing. I don't know if by chance, I've had to do a lot of that in my career. It's really about the intimacy and creating intimacy with someone you don't necessarily know all that well. That's a tricky thing to pull off. … Getting that connection and also doing in front of a bunch of people."