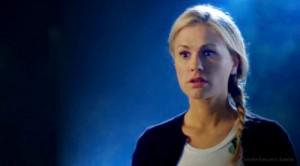 The True Blood season 4 premiere took Sookie (Anna Paquin) to faery land, and just as quickly as she arrived, she was propelled back to Bon Temps. Or so it seemed. In all actuality, Sookie's brief stint with her fellow fae wasn't brief at all. Upon arriving home, she quickly learned that she had been gone more than a year, and that A LOT had changed in her absence. The Hollywood Reporter put together a top 10 list of what Sookie missed while on her fae journey, and we've added in a few of our own thoughts for good measure.
1. Jason (Ryan Kwanten) isn't pretending to be a cop anymore – yup, he's a full blown deputy now (and we seriously think he's got great potential). However, after thinking Sookie was dead, he sold her house and was in the process of packing up her things. He's also become the caretaker of Crystal's (Lindsay Pulsipher) Hotshot family, but by the end of episode one, "She's Not There", things weren't looking so good for Mr. Jason.
2. Bill (Stephen Moyer) is King and he's gotten in touch with his emotions – Bill has turned into quite the politician, which is a bit weird considering how we'd become so used to his brooding gloomy disposition. It's obvious he still cares for Sookie, but it's also obvious he's not pining after her, which Sookie seemed a bit distraught about initially.
3. Eric's (Alexander Skarsgård) comedic talents and conniving ways are in full effect – from the minute Eric showed up in episode one, we were laughing. His relationship with Bill has been dramatized even more, and his lust for Sookie has magnified twofold. Absence definitely made the heart (or, well, something else) grow fonder in his case. He bought Sookie's house and is making his presence much more known in an attempt to make Sookie his. And what about Pam (Kristin Bauer van Straten)? Did she get hotter and taller?
4. Lafayette (Nelsan Ellis) is walking the wiccan road – thanks to Jesus (Kevin Alejandro), Lafayette is becoming quite the powerful force in the new wiccan coven in Bon Temps. And he's sporting a new hairdo.
5. Tara (Rutina Wesley) is Toni, the buff lesbian cage fighter – okay, so maybe lesbian is pushing it, but Tara's definitely exploring her sexual identity in her new life in New Orleans. And she's genuinely smiling and not all angry and up in everyone's face. We hope she continues to explore this new side of herself because we like it!
6. Jessica (Deborah Ann Woll) and Hoyt (Jim Parack) realize their relationship is normal – yes, they may not be your typical normal couple, but their current living situation is certainly typical. Hoyt would like Jessica to cook more and Jessica would like Hoyt to maybe let her be a blood thirsty vampire more often than not. Ok, so maybe that second part isn't really typical…
7. A post-Russell Edgington (Denis O'Hare) world is bad news for the vamps – humans may have been weary before about vampires coming out of the coffin, but ever since Russell went on a rampage after losing the love his life, (some) humans seem to downright hate any and all vamps.
8. The Bellefluers have become a household name – Andy (Chris Bauer) may be addicted to V, but he's the sheriff in town and he seems to be managing it well (especially now with the help of his new deputy). Andy's sister, Portia (Courtney Ford) is a powerful attorney and the head of Chamber of Commerce, who also happens to like batting her eyelashes at Bill. We know what that will surely lead to…
9. Shapeshifters unite – Sam (Sam Trammell) has somehow discovered a small group of shifters that have become a support group for one another. However, Sam's little brother Tommy (Marshall Allman) is on the outside looking in while Hoyt's mama is primping him to become her new number one son.
10. Arlene (Carrie Preston) and Terry (Todd Lowe) had an evil baby – okay, so we don't know yet if he's truly evil, but Arlene definitely thinks so. Terry remains hopeful that all is fine with their new son Mikey, but could Mikey's fondness for decapitating barbies be a sign?
Sound about right, Truebies? Anything else Sookie missed while away? Let us know in the comment section below!
Source: The Hollywood Reporter - 'True Blood' Premiere: 10 Things Sookie Missed While Fraternizing With Fairies
Photo Credit: HBO