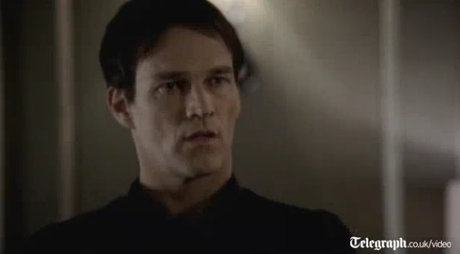 4 more days until the True Blood Season 4 premiere and I have a ton of videos to share with you today! As you may be aware the cast and crew of True Blood celebrated the premiere of season 4 yesterday at the Arclight Cinema in Hollywood, CA. The first video comes directly from the premiere's red carpet where the UK's Telegraph discusses what it's like working with your spouse to Stephen Moyer (Bill Compton) and Anna Paquin (Sookie Stackhouse). The clip package also features two short scenes from season four. The first is between Bill and Jessica (Deborah Ann Woll) who confesses that she feels guilty about something to her maker. And the second is a scene between Eric (Alexander Skarsgård) and Sookie where he informs her that vampires will eventually figure out she's a fairy which is why she needs protection:
The second clip is another in a series which I started posting yesterday. HBO posted a Season 4 promo with Eric as the main focus and there is also one that features Sookie which I have now posted below:
A couple of months ago, we got a tiny little taste of Sam (Sam Trammell) and Luna (Janina Gavankar) in Sam's Waiting Sucks clip. But thanks to an appearance that Sam did on Lopez Tonight, we get an even better sense of them as a couple in a scene where Luna comes to seduce Sam:
That's it for now Truebies! But stick with True Blood Fan Source today because we'll be posting videos from the season 4 premiere as well as some other videos to get you excited for Sunday!
Sources: YouTube.com- "New season of HBO vampire hit True Blood premieres in Los Angeles"
YouTube.com- "True Blood Season 4 Sookie (HBO)"
YouTube.com- "True Blood Season 4 Sam and Luna Clip"
Video Credits: HBO Inc.
Telegraph.co.uk
The True Blood Source
Photo Credit: Telegraph TV