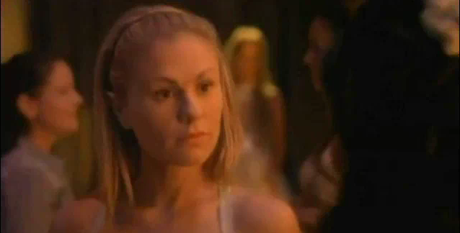 Not too long ago we posted a story about how HBO launched HBO go, the mobile streaming service for computers, iPad, iPhone, Android etc. It's free to those who already subscribe to HBO on TV in the United States. This means you can watch all of True Blood season 3 any time you want. If you haven't registered for it yet, you might want to Truebies because on May 29, 2011 you'll be able to watch the first three minutes of episode 4.01: "She's Not There"! To wet your appetite, here's the promo. In it Sookie (Anna Paquin) finds that Barry the Bellhop (Chris Coy) from season 2 is in fairyland too! Watch:
Source: YouTube.com-" True Blood Season 4: Promo for May 29th Sneak Peak HBO Go."
Video Credit: HBO, Inc/The True Blood Source
Image Credit: HBO, Inc.