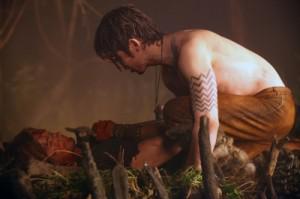 One of the things that Truebies have said they'd like to see more of in True Blood season 4 is flashbacks. Lots of flashbacks. They're great character and relationship builders and you Truebies have apparently not gotten enough of them in the past three seasons. Well, it sounds like True Blood's creator, Alan Ball, has heard your pleas. He spoke with the New York Times recently about how we can expect to see lots of flashbacks this season:
"On 'True Blood,' when you have characters who are thousands of years old and you can do a flashback. It's not to 1980 — although we do have a 1980s flashback this season — but it can be to the 9th century. We go to the Spanish Inquisition a lot this year. That's really, really fun."
Where would you like to see the flashbacks go, Truebies? We've heard lots of you say you want more Eric and Pam history, so maybe we'll see how and when Pam was turned? Fingers crossed that there will be at least one flashback in the season 4 premiere this Sunday, June 26th!
Source: Wetpaint – Alan Ball: Get Ready for Flashbacks!
Photo Credit: Access Hollywood