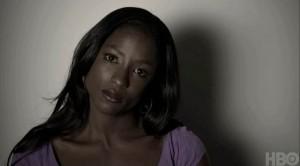 Season 4 of True Blood premiered to 5.4 million fans on Sunday evening (and an additional one million tuned in to watch the rebroadcast at 11PM EDT), so suffice it to say, there are more Truebies than ever! One of the big story lines of episode one was definitely Tara (Rutina Wesley) as a cage fighter in New Orleans, who just so happens to be in a same sex relationship. Creator Alan Ball had hinted before the premiere that one of the series regulars would venture down this road, but did any of you Truebies think it would be Tara? Ball, Wesley, and "She's Not There" director Alexander Woo chatted with The Hollywood Reporter about what brought about this new story line for Tara.
We've heard some of you Truebies talking about how you'd like to see something different happen with and for Tara, mostly because she so often plays the victim. Ball couldn't have agreed more:
"We felt like it was time for Tara to stop being the victim. It was time for Tara to really take charge of her life in a way that would be surprising and would give us some fun places to go story wise. We thought, 'If somebody has been through something like that, maybe they would be prompted to create a whole new life and identity.' And why not?"
Now, True Blood has always been very open to exploring each character's sexuality. The show has been nominated and won GLAAD Media Awards, and continues to be recognized by the LGBT community for openly embracing all sexual identities. So, what was it with Tara specifically that made Ball et al explore a same sex relationship? "She's Not There" director Alexander Woo breaks it down a bit for us:
"Was she always curious? Did she always have sexual interest in men and women? I think we figured that we certainly were careful not to suggest that her life and the course of her life drew her into a relationship with another woman. But I think what Tara does at the beginning of this year is that she sees an opportunity to start completely fresh, start completely new and not being tied down with all these patterns that created so much suffering."
So, what does Wesley think about this new development for her character?
"My main thing is I don't think it's (her lesbian relationship) because my character has such bad luck with men. I hope that people can understand that, because I know people, of course, are just going to go to the 'Oh, they're just doing that, because she had that relationship and all of a sudden she's gay.' No, no, no, it's not that. It's just something that happened and she ended up being open to it, which I think is really cool. It's nice to see Tara a little more Zen and open to things. And she just seems more carefree about life. It feels good to see her smile for a change."
We definitely agree, it IS nice seeing such a genuine smile on Tara's lips. However, we're not sure how long Tara's life in New Orleans will be in the cards. It looked like she might be getting herself unintentionally wrapped up in Marnie's crazy Wiccan world. What do you think, Truebies?
Source: The Hollywood Reporter - 'True Blood' Premiere: EP Alan Ball on the Big 'Gay' Reveal, 'It Was Time'
Photo Credit: HBO