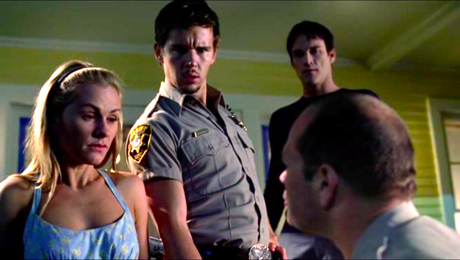 As we've already seen, True Blood's forth season has started with a bang, and the insanity is only going to continue. Recently, Hollywoodlife.com shared some new scoops about Jason, as well as Bill and Sookie. It seems like the three of them are in for strange twists and turns on the roads their lives follow.
Let's begin with Jason. When we saw him at the end of Season 3, he was taking care of the people of Hotshot for his girlfriend, Crystal, who had been kidnapped by her former fiancé. That plot line will be continuing, as we saw in the forth season premiere. In fact, it's a plot line taken directly from Charlaine Harris' Southern Vampire Mystery series. Jason is going to learn the secret of Hotshot the hard way — by becoming a part of it. He's going to become a were-panther, just like everyone else in Hotshot, and it won't be easy for him. Ryan Kwanten had this to say about Jason and his relationship with Crystal:
She's very much under a spell, for lack of a better phrase. And Jason's so in love with this girl that he goes along with it for a little while, but he very quickly finds himself in a position he may not be able to get out of.

He gets very close to death, if not very much at death's door. Nothing is what it seems on True Blood, and we very much continue that philosophy this season.
Jason had better be careful! His life is going to get more difficult from here on out. Hopefully his new-found maturity as an officer of the law will help make Jason think things through more.
Of course, Jason isn't the only one whose life is going to be more difficult. Vampire Bill will also have a lot of new responsibilities thrown his way. Unfortunately for him, one of those responsibilities will be letting Sookie go her own way romantically.  Stephen Moyer shared this:
"I think Bill believes in the whole 'If you love somebody you have to set them free,' thing. … He needs to let her be the person she needs to be and not try to be so overbearing. He needs to step back!"
While no longer being romantically attached to Sookie will be difficult for Bill, Stephen feels that bachelorhood won't hurt the Southern vampire too badly once he decides to enjoy it.
This will leave an als0-solo Sookie an opening to explore new relationships with new people, including Viking vampire Eric Northman.
Are you as excited as we are for this to be shown on True Blood in upcoming episodes? Let us know in the comments.
SOURCES: Hollywoodlife.com — True Blood Season 4 Scoop: Ryan Kwanten Tells Us Jason is 'Very Much at Death's Door'
Hollywoodlife.com — 'True Blood' Scoop: Don't Expect Bill & Sookie to Get Back Together Anytime Soon!
(Image Credit: HBO, Inc.)