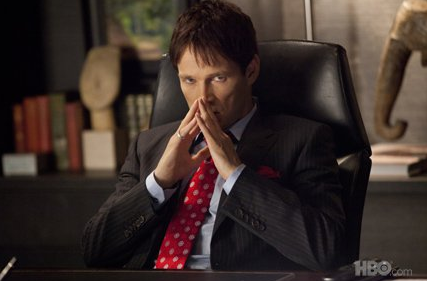 I've got some more True Blood Season 4 spoilers Truebies! The new season is just days away from premiering now and we've already seen the first eight minutes of "She's Not There." But I'm sure many of you were left wondering after the preview exactly what the other characters have been up to. Well you're not alone, I've been too. EW is the one answering this burning question in their Spoiler Room and they've got the goods on Bill Compton (Stephen Moyer), Jason Stackhouse (Ryan Kwanten), and Eric Northman (Alexander Skarsgård).
So what will Bill be up to now that Sookie (Anna Paquin) has made him persona non grata? Sandra Gonzalez of EW tells us:

"I know you've seen the first eight minutes, but the next eight will definitely answer your question about whether Bill cares or not. That said, Bill's storyline is sometimes very twisted, but mostly just full of twists."
And what about our viking vampire Eric?  He may have a thing for Sookie but he's also a thousand years old which means he's seen a lot in his life. So how will he deal with some of the issues facing vampires this season? Well by being Eric of course:

"Eric is constantly underestimated, and he'll prove that in the first episode when he comes into possession of something extremely valuable. Also, episode 2 has some pretty great Eric moments, especially the last scene."
Jason will also be facing some challenges this season. That much was evidenced by his waiting sucks clip. But apparently things get pretty dark for our lovable hunk.
"Ryan Kwanten has talked about some dark and disturbing scenes that are in Jason's future, and he was right on point. One scene in episode 2 might even require eye covering if you're squeamish."
Well it sounds like episode 2, "You Smell Like Dinner" will be quite enlightening. Maybe that's why it's being posted on HBO go on June 26th? What do you think? Put in your comments below!
Source: EW.com-"'True Blood,' 'Torchwood,' 'The Closer,' 'The Killing': Find out what's next in the Spoiler Room"
Image Credit: HBO, Inc.