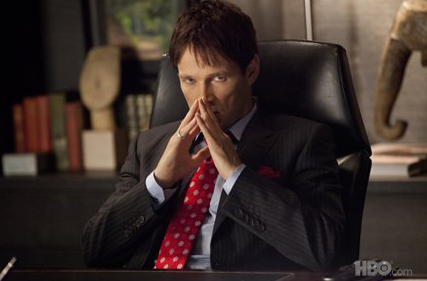 It's that time of the week again! This spoiler Monday comes on the heels of the season 4 premiere of True Blood's first episode, "She's Not There" and the Watch with Kristin Team has brought us some nice little True Blood tidbits. One concerns a fan favorite who is apparently in mortal peril and another about Bill (Stephen Moyer) and what he's building in his house. But first the fan favorite. According to Team WWK:
"It's probably nothing, but producers are casting for a body double for a character we love for the season finale. This character is in perpetual danger because he/she is such a fan favorite (and he/she has almost been offed before), so we're a smidge panicky that bad things may finally come to pass for this person. Eek!"
Please don't say it's Pam (Kristin Bauer van Straten)!
In other news, Bill is about to get a lil' kinky according to this little spoiler:
"Bill installs a torture chamber in his house this season. Kinky sex, perhaps, or more likely he's hunting down his enemies and putting them on the rack for his own quasi-diabolical purposes."
Oooh! It looks like our Southern Gentlemen may be more of a bad ass this season! Go Bill! What do you think Truebies? Only 6 days and counting!
E! Online- "Watch With Kristin: Spoiler Chat: Get Summer TV Scoop"
Image Credit: HBO, Inc.