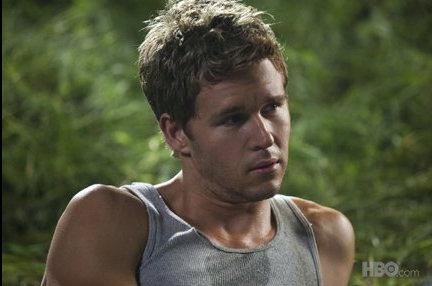 The spoilers just keep coming Truebies! This True Blood Season 4 spoiler is from none other than TV Guide's Natalie Abrams who addressed the issue of whether or not there will be another wedding in Bon Temps this year. And who might the lucky couple be? None other than Jason (Ryan Kwanten) and Crystal (Lindsay Pulsipher). In the Southern Vampire Mysteries, the two eventually get married. On the subject, Natalie had this to say:
"I just rid my DVR of the stench of MaryAnn's (Michelle Forbes) putrid meat man and already you want to have another wedding? Sheesh! I bet I know why you're asking though. You're one of those cheaters who read the books and is now pretending to be really intuitive about the TV show's upcoming plot points. Well, I've got news for you, cheater, your fancy book-learnin' won't help you here! For while Jason and Crystal take their already unorthodox relationship — she's a panther, he's an idiot — to a whole new level of weird this season, it's not the same weird as in the books. Her motivation, for example, is very different, perhaps inspired by recent headlines."
So it's not the same but they will have their relationship taken to a new wierd? What do you think that means? Tell us in the comments section!
Source- TVGuide.com-"Mega Buzz: NCIS' Mystery Photo, More Ned on Thrones and Castle's New Boss"