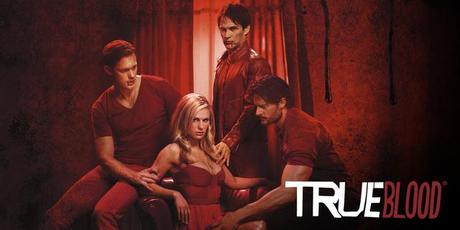 In the start of the month word got around that HBO Video will be releasing True Blood- The Complete 4th Season on May 29th on DVD and Blue-ray.  With word getting around about the release date there was a lot of talk about the special features that will be coming out with this season.  Well today we got word of all of the features for this season.  Here is a list of those special features on the Blue-ray format and the DVD format.
"Blu-ray Features (along with all DVD extras):

Includes "Blu-ray with HBO Select:" DVD + Digital Copy
Enhanced Viewing:

Character Perspectives (picture-in-picture): find out the back story of what happened in Bon Temps while Sookie was missing in Faerieland, and get the inside scoop from your favorite characters including Andy, Arlene, Crystal, Debbie, Don Bartolo, Godrick, Jason, Lafayette, Luna, Maxine, Melinda, Nan, Pam, and Tara.
Vampire Histories/Character Bios and Hints/FYIs: get even more background on favorite characters, trivia facts as well as show hints and clues.
Flashback/Flash Forward: move through time in the world of Bon Temps. Flashback to relive pivotal moments or Flash Forward to reveal the significance of a certain scene.

True BloodLines: uncover secrets from relationships past and present in this engaging, fully interactive guide and archive.

DVD Features:

True Blood: The Final Touches: join show creator and executive producer Alan Ball as he reveals an exclusive, never-before-seen glimpse in the post production process of True Blood.
Inside the Episodes: get the backstories on each episode with revealing interviews from the show writers.
Audio Commentaries: six commentaries with cast and crew including Alan Ball, Anna Paquin, Stephen Moyer, Alexander Skarsgård, Deborah Ann Woll, Sam Trammell, Fiona Shaw, and more."
With the Blue-ray formats HBO has a few more stuff to go with it.  High-resolution 3D packing will be on both formats but you can also purchase a digital copy using a provider of your choice.
With so many options on how you can watch True Blood you can now get your fix easy enough.
Source: TVShowsOnDVD.com -"True Blood – Finalized Package Art, Extras for 'The Complete 4th Season' on DVD, Blu-Ray"
Image Credit: HBO, Inc