As Season 4 comes ever closer, so increases our impatience for it to arrive.  Despite the many spoilers and video trailers we've been graced with lately, I couldn't help but go in search of more True Blood scoop. I came across several tidbits courtesy of the Watch With Kristin Team at E! Online who revealed that they will be having an interview with a vampire and said that True Blood producers are currently casting for a new role. I also came across an article from Michael Ausiello of TV Line who provided a look at what the new season will bring as well as a new photo.
I asked the Watch with Kristin Team if they had anything on True Blood for their spoiler chat and they told me that they'll be doing an interview later this week:
"We're talking to the amazing Jessica Tuck (anybody else remember her as Megan on One Life To Live?) later this week about how her character Nan Flanagan shapes the season."
If you have a burning question for Jessica, post it here for the WWK team. They also revealed that Terry Bellefleur (Todd Lowe) is going to be getting a visit from an army pal of his later this season. According to them, the character is also slated to appear next season:
"Season four hasn't even begun, but we already have scoop for the finale and season five! Producers are looking for someone to play Patrick Devins, an army buddy of Terry Bellefleur's who understands what he went through and was saved by Terry not once, but twice. He'll appear in more than half of the episodes next season, so let's start guessing his supernatural orientation right now…is he a chupacabra, a hodag or something cooler? "
While season 4 may indeed be the "Season of the Witch," the vampires of True Blood will be forced to engage in some good old PR according to TV Line's Michael Ausiello, something that we saw in the sneak peak released a few weeks ago. The reason for trying to put a positive spin on vampires this time? None other than Russell Edgington (Denis O'Hare) of course. After ripping out the spine of a news anchor, humans haven't been so thrilled with the vampire contingent. Enter Nan Flannigan. The AVL spokeswoman will be leading the campaign to put the vampires back on top. Below, you'll be able to see what our favorite fanged characters are up against and how Nan aims to fix it. Watch:
Season 4 Sneak Peek
Season 4 Trailer
As if trying to win back the human public wasn't a big enough task, the characters of our favorite show will also have to deal with witches this year, who will bring them even more trouble. Headed by Marnie (Fiona Shaw), creator Alan Ball told Ausiello:
"She is going to discover a way to have power over them."
Uh oh! Witches having power over vampires? Not good! But it certainly makes for some great summer television! In addition to getting a tease from Alan Ball, Ausiello also received a great photo of all the vampires on the show which you can see in full below.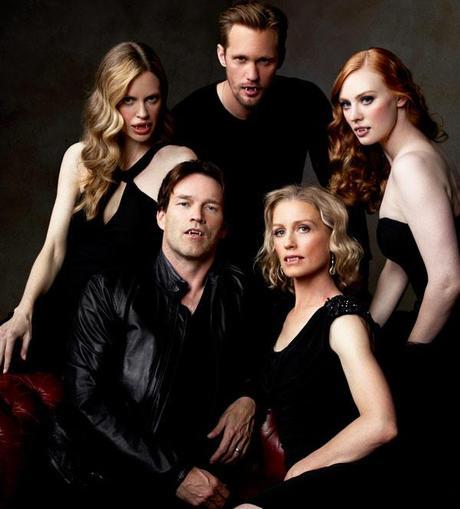 To read more about TVLine's first look into True Blood Season 4, click here.  And don't forget to watch "Digging Up Season 3″ of True Blood tonight Truebies! It airs beginning tonight. Season four will be arriving 2 weeks from Sunday!
Sources: E! Online- Spoiler Chat: Who Wants Summer TV Scoop?"
TVLine.com-"True Blood First Look: Season 4′s Vamps Unite"
HBO.com- "Season 4 Trailer"
HBO.com- "PaleyFest Preview Clip"
Image and Video Credits: HBO, Inc.