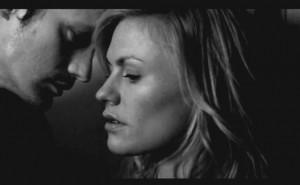 All you Eric (Alexander Skarsgård) and Sookie (Anna Paquin) lovers out there will definitely rejoice upon hearing today's spoilers. According to E! Online, Truebies are going to get an eyeful with some Sookie and Eric eye candy in upcoming episodes:
"Sookie likes this changed Eric.  A lot. And in Sunday's episode something you've probably been waiting for finally happens.  Best part is that it's not a dream."
But wait, there's more. Not surprisingly, it sounds like Bill (Stephen Moyer) is less than pleased with how things are playing out:
"In an upcoming True Blood episode he vamp-speed runs into a mostly naked Eric-Sookie moment, and to say he doesn't react well would be putting it mildly."
A mostly naked Eric-Sookie moment? Um, yes please!
Source: Examiner.com – 'True Blood' season 4: Eric and Sookie spoilers!
Photo Credit: HBO