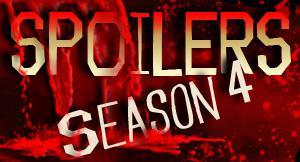 Big big HUGE SPOILER ALERT
We already posted the synopsis of episode the first 6 episodes, but now the descriptions of another 4 episodes have leaked.
Read them after the cut.
Episode #43 (#4.07): "Cold Grey Light of Dawn": With Marnie empowered by spirits of the dead, Bill issues an unpopular order to save vampires from the light. Eric embraces his amnesia; Luna discovers Sam's not the man she thought he was; Lafayette expands his consciousness; Pam gets a body peel; Andy's date with Holly doesn't go as planned; Jessica has doubts about her future with Hoyt; Alcide and Debbie join a new pack. Playdates: August 7, 9, 10, 13 and 26.
Episode #44 (#4.08): "Spellbound": As Bill and Marnie brace for a dangerous midnight face-off, Sookie and Eric pledge their allegiance to the King. Jason is torn between friendship and passion, and Jessica is spurned from two homes. Lafayette becomes the pawn of a tormented spirit; Tommy takes a walk in someone else's shoes; Sam contends with yet another adversary in Marcus, Luna's ex and the leader of Alcide's new pack. Playdates: August 14, 16, 17, 20 and 26.
Episode #45 (#4.09): "Run": Convalescing after her latest near-death trauma, Sookie envisions a world where there's room for both Bill and Eric. Jesus tries to purge the restless spirit out of Lafayette; Marcus enlists Alcide to help him deal with the Sam situation; Bill and Nan Flanagan clash over their respective agendas; Hoyt asks Jason to make a delivery to Jessica. Despite Tara and Holly's misgivings, Marnie plots her next move against the vampires, during a "Festival of Tolerance" event at Shreveport. Playdates: August 21, 23, 24, 26 and 27.
Episode #46 (#4.10): "Burning Down the House": As all hell breaks loose in Shreveport, Sookie summons her most potent powers yet to save Bill, in the process breaking a spell and leading Marnie/Antonia to re-evaluate her mission. Jason urges Jessica to glamour him for Hoyt's sake; Terry drags Andy to "Fort Bellefleur" for an intervention; Alcide reconsiders his allegiances after Marcus' fight with Tommy. Jesus, accompanied by Sookie, Lafayette and Jason, tries to breach the Moongoddess Emporium's defenses to liberate Tara and Holly, while Bill leads a brigade of vampires committed to blowing the place to kingdom come. Playdates: August 28, 30 and 31