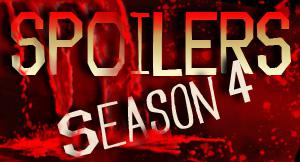 Big big HUGE SPOILER ALERT
We already posted the synopsis of episode 4.01 some time ago, but now the descriptions of another 5 episodes have leaked.
Read them after the cut.
Episode #37 – 4.01 : Sookie journeys away from Bon Temps; Eric and Bill try to win back the human public; Jason learns that no good deed goes unpunished; Tara finds refuge in close quarters; Sam bonds with his own; Hoyt and Jessica debate the dinner menu; Jesus urges Lafayette to join a coven; Terry tries to alleviate Arlene's fears about the baby.
Episode #38 – 4.02 : "You Smell Like Dinner": Sookie adjusts to Bon Temps' new realities; Bill reveals pieces of his past; Eric crashes a witches' meeting; Jason gets his wounds licked; Andy struggles with his addiction; Sam learns of Luna's special talents; Jessica satisfies her blood cravings; Arlene witnesses strange behavior from her family. (Written by Brian Bucker; directed by Scott Winant.) July 3, 5, 6, 9 and 14
Episode #39 – 4.03 : "If You Love Me, Why Am I Dyin'?": Sookie makes a deal with Eric, and reconnects with Alcide; Bill punishes an errant vampire and counsels a guilt-ridden Jessica; Jason is cast as a reluctant savior; Tommy eyes a scam and alienates Sam; Marnie flexes her newfound powers; Pam delivers an ultimatum to Lafayette, Tara and Jesus; Eric spoils Sookie's faerie reunion. (Written by Alan Ball; directed by David Petrarca.) July 10, 12, 13, 14 and 16
Episode #40 – 4.04: "I'm Alive and on Fire": Alcide helps Sookie hunt for Eric; Marnie searches for guidance to break a spell; Bill discovers a common bond with the Bellefleurs; Jason begs for liberation from Hotshot; Sam penetrates Luna's inner circle; Arlene sees the writing on the wall; Tommy returns to his roots. (Written by Nancy Oliver; directed by Michael Lehmann.) July 17, 19, 20 and 23
Episode #41 – 4.05: "Me and the Devil": Sookie nurtures Eric; Bill gets involved personally in the necromancy crisis; Pam takes the veil; Sam becomes Tommy's accomplice; Arlene and Terry look to religion to solve their problem; Jesus and Lafayette head to Mexico to harness a shaman's power; Jason convalesces. (Written by Mark Hudis; directed by Daniel Minahan.) July 24, 26, 27 and 30
Episode #42 – 4.06: "I Wish I Was the Moon": Sookie searches for Jason under a full moon; Marnie connects with spirits of the past; Arlene and Terry cope with a suspicious inferno; Debbie urges Alcide to join a new werewolf community; Tommy trades places with Sam; Lafayette feels the spirit in Mexico; Eric surrenders to his King's will. (Written by Raelle Tucker; directed by Jeremy Podeswa.) July 31
source: IMDB.com