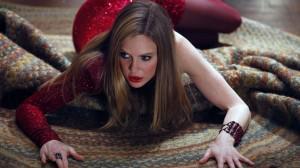 If you saw last weeks episode of HBO's True Blood you will be aware that Pam (Kristin Bauer van Straten) did not make out so well when she confronted Marnie (Fiona Shaw) and the witches about Eric's (Alexander Skarsgard) memory loss.  The episode ended with Pam's face melting off and in one of the previews for this weeks episode we see that Pam goes to Bill (Stephen Moyer) to ask for permission to retaliate against the witches.  Bill does not grant that request.  However, in an interview with The Daily Beast, van Straten reveals a little more about what we can expect to see during that scene.
It is no secret that Pam has been a fan favorite on the show, in part due to the way she delivers her one-liners, but also because of her dedication to her maker Eric Northman.  As we saw during Episode 4, Pam outright lies to Bill in order to protect Eric and it looks like she slips up during Episode 5.  Evidently while asking Bill to get back at the witches, Pam reveals Eric's memory loss and that Eric is hiding at Sookie's (Anna Paquin) house.  Betraying Eric, even accidentally will not be easy for Pam as Kristin confirms saying:
"That was a hard moment for me because we've seen her willing to die for him. I tried to play it that she probably hasn't slept and is so stressed that she literally makes a mistake and is crushed by it. It's a true mistake."
It should be interesting to see how this mistake plays out.  We have seen during previews that Bill catches Sookie and Eric at an inopportune time, perhaps as he races over to her house to confront them? 
Click here to read the complete interview with Kristin where she talks about co-star Alexander Skarsgard, her family life and Pam. 
Source:  thedailybeast.com – True Blood's Kristin Bauer van Straten on Pam, Eric, Alexander Skarsgard
Photo Credit: HBO, Inc.