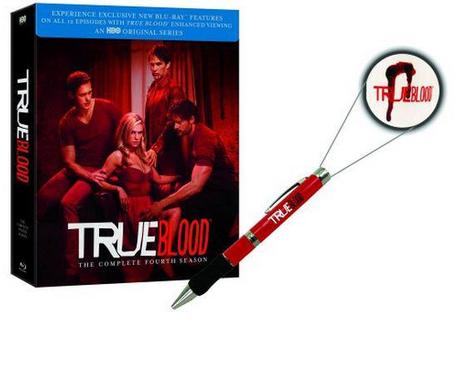 HBO has announced that the True Blood Season 4 DVD and Blu-Ray box sets are now available for pre-order! The announcement came yesterday on the HBO store website complete with a release date of May 29th, 2012.
Current pre-sale prices at HBO's store stand at $79.99 for Blu-Ray and $59.99 for DVD. Every order comes with a Fangtasia projector pen.
So if you'd like to place your orders be sure to click here.
But if you'd like another way to get Season 4 on Blu-Ray you might want to stay tuned to True Blood Fan Source. A little birdie told me that there's a pre-order for one just waiting for someone's address.
Source: Store.HBO.com- "True Blood: Season 4 Blu-ray w/ Exclusive True Blood Fang Bite Projector Pen"
Image Credit: HBO, Inc.