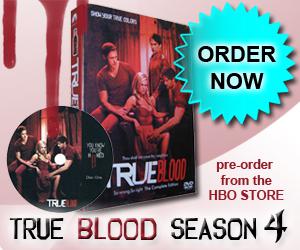 Since today True Blood Season 4 is available for pre-order in the HBO Store on DVD and Blu-Ray. Pre-order your copy now and receive it in May, just in time to warm up for the new True Blood season.
Special Features: AUDIO COMMENTARY, True Blood Lines, True Time Line, Character perspectives (Enhanced viewing), Character Bios (Enhanced Viewing), Flashbacks/Flash Forwards (Enhanced Viewing), Hints/FYIs (Enhanced Viewing), Post-production Round Table.
You will also get a True Blood Fang Bite Projector Pen – Red Projection light pen with black grip and silver trim/ True Blood Fang logo reflects onto any surface with light in clicked on (only with your order from the HBO USA Store).
The DVD will ship on May 29.
Pre-order the DVD here or the Blu-Ray here from the HBO Store.
UK and Irish Truebies can order in the UK HBO Store. International shoppers on Amazon.com or Amazon.co.uk.