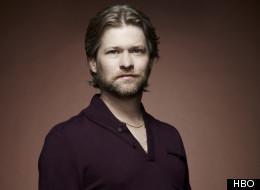 In the first four seasons of HBO's True Blood, Terry Bellefleur, played by Todd Lowe, sort of faded into the background, occasionally coming up with some great one-liners.  When he got together with Arlene Fowler (Carrie Preston), we were treated to the sweet, lovable side of Terry.  Lowe spoke to Rolling Stone Magazine recently about the struggle Terry goes through in Season 5 with fighting a smoke monster, why he thinks it is important for Terry to stay human, and what it was like working with Will Smith on his new movie 'After Earth'.
One of the things that Alan Ball kept consistent with Charlaine Harris' Sookie Stackhouse books was the fact that Terry suffers from PTSD.  Lowe tells Rolling Stone that while he knew that Terry had the condition, he didn't know until they began filming for Season 5 what the big trauma was that had been haunting Terry so much.  Although he left the medical and technical research of the condition up to the writers, Lowe does say that he knows people who had done some tours in Iraq and he based his portrayal of Terry on them.
In one particularly memorable part this season, Arlene asked Lafayette (Nelsan Ellis) to conduct a seance and convince Terry that the curse against him has been lifted.  Ellis once again showed his acting genius during that scene and Lowe said that it was hard for everyone else to sit there with a straight face:
It's really hard, especially when he had to memorize those few lines in Arabic,  and he's sitting there shouting and getting really into it – spit's coming out,  people getting hit in the face – but he's so powerful, it's hard not to flinch  when he really turns it on like that. But, yeah, him rattling those bracelets – we got all that silly stuff out in the rehearsal. Once you do a scene 10 times,  it's not quite as funny anymore.
During a series of flashbacks we were able to see what Terry and Patrick (Scott Foley) did to trigger this curse they have following them and Lowe says that he hopes his cousins, who are marines, are able to look past the little details that don't quite fit with the realities of life in combat.  Lowe had wanted to shave his facial hair and cut his hair for that scene but logistically it wasn't possible.  To help give that scene a realistic feel, the actors were given a half-hour boot camp to show them how to hold a rifle, how to walk and how to scan a perimeter.
Terry's "enemy" this season has been a special effect which was added in during post-production.  When asked what he thought when he saw the finished scene, Lowe replied that although he is not a fan of CGI, he was happy with the way the Ifrit turned out on screen.
The number of humans in Bon Temps seems to dwindle constantly and while the vampires and shifters have cool powers, Lowe feels that Terry should remain human:
I think we need humans in there for balance – to give supernatural characters  more weight. If there are no humans left, it becomes like a Dungeons and Dragons  game; there's gotta be something that grounds it in reality. So I'm happy  staying human; whatever the writers want to do with me is fine. If they want to  at the end of the series reveal that I'm the Easter Bunny, I'll take that and  play it as straight as I can. But no, I prefer staying human. All of Terry's  monsters are on the inside.
One thing you may not know about Lowe is that he is a big music lover and is even part of a band called L.A. Hootenanny.  The group has about 12 members and they play a weekly gig in Los Angeles.  During the three hour set they may cover everything from Dr. Dre's 'The Next Episode' to New Order's 'Temptation' and they write their own music as well.  The group has recorded an album and they are hoping to release it in the next month.
Sadly True Blood is just about finished for Season 5 but Lowe has been keeping busy.  He appeared in a new series called 'Bunheads', which was created by Amy Sherman-Palladino, who he worked with on 'Gilmore Girls' and they are just waiting to see if the show will be picked up.  Lowe also did some work on M. Night Shyamalan's new movie 'After Earth' where he had the chance to work with Will Smith and his son:
It's coming out next year – I guess it's gonna be a big Will Smith summer  blockbuster. I had a scene with Will and his son Jaden, and we shot it in  Philadelphia. It was the first time I've ever worked on a green screen, and I  had a fantastic time. Will Smith is the biggest movie star I've ever met, and he  couldn't be more gracious. I play a wounded veteran – but it's set years in the  future, in space, and I'm in a levitating wheelchair.
No official release date has yet been set for the film but we will update you once we hear more!  To read the full interview Lowe did with Rolling Stone click here.
Source:  RollingStone.com - QA: 'True Blood' Actor Todd Lowe on the Importance of Playing a Human
Image Credit: HBO, Inc.