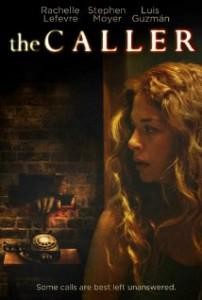 Well Truebies we are really close to the end of True Blood Season 4, but thankfully our favorite cast members have been keeping busy with other projects so we can still get our fix of them.  Stephen Moyer (Bill Compton) has a new horror movie out entitled 'The Caller', which has hit theaters in a limited release already, alongside Rachelle Lefevre and he spoke with TheInsider.com about the movie, what we can expect in the last few episodes and working with Fiona Shaw.  'The Caller' is a horror movie with a time travel twist, because the bad guy is doing the stalking from the past:
Troubled divorcee Mary Kee is tormented by a series of sinister phone calls from a mysterious woman. When the stranger reveals she's calling from the past, Mary tries to break off contact. But the caller doesn't like being ignored, and looks for revenge in a unique and terrifying way…
In previous interviews Moyer has revealed that he is a fan of horror movies, and he is very proud of how this one turned out.  In fact, he tells TheInsider.com that he feels this is the best movie he has ever been a part of and says there were no special effects or CGI, it was old fashioned lighting and music that enhances the performances.  So how does he feel about the time travel aspect of the movie?
"I'll be honest with you, there are a lot of things as an actor you do that you haven't necessarily thought about in great detail. I did slough my way through Steven Hawking's A Brief History of Time, and probably understood about three paragraphs of it [laughs]. We were most concerned about whether the stuff held up – whether there was any truth to this plot, because you don't want to do anything that's utter bollocks. And we had a physics specialists and he told us that mathematically, this movie is possible."
The conversation moves to True Blood and Moyer reveals that he had thought that the show could be a hit but that living how big it has become is a different thing all together.  He says he is always amazed when he hears the fans talk about not just watching True Blood, but actually having parties each week to watch.  Season 4 has been fast paced and exciting and when asked what he has enjoyed the most, Moyer talks about working with Fiona Shaw (Marnie) and says:
"I had a great time working with Fiona Shaw (who plays witch Marni). I feel lucky to work with some of the amazing actors I have — Fiona is incredible and Denis O'Hare was brilliant last season as well. Coming from England, I've known her work for ages, but it never fails to amaze me what brilliant writing we're given – and at times, some wonderfully silly stuff. There will be scenes that make the actors look around after a take and go, "what did I just say?" [laughs]"
With everything that has happened we have to wonder how its all going to end.  No doubt Alan Ball will leave us with a huge cliffhanger that will help to lead us in to an incredible Season 5.  So what does Moyer think about the season finale?
"I haven't seen the finished episode, but when I read it, it felt like the most satisfying and satisfactory finale we've ever had. There's some awesome, epic stuff in the last few episodes."
As much as we don't even want to think about the season ending, it sure sounds like it is going to be a great episode for the fans!  To read the entire interview with Stephen Moyer, click here. 
Source: TheInsider.com – Stephen Moyer Interview
Photo Credit: Head Gear Films
Featured Image Credit: HBO, Inc.