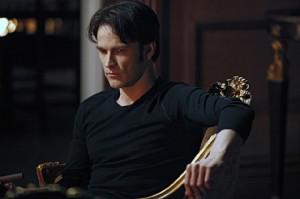 Playing a vampire on HBO's True Blood isn't necessarily as easy as playing a were or a shifter. If you're a vamp, the physicality of your character doesn't change from season to season, so maintaining how you looked in season 1 to season 4 definitely adds a few challenges. It certainly wouldn't make any sense if a vampire was skinny in one season and then showed up the following season having added 20 pounds of muscle. Or, if a vamp was hairy in one season and not hairy the next. So it goes for Stephen Moyer (Bill Compton), who admits to Pop Eater that, at one point in season 1, he was asked to be very clean shaven (not just his face) for a scene:
"About 2/3′s of the way through season one we had a new director on board and we had a scene where Sookie and Bill get it on for the first time, it was a very important scene and the director said I just want it to be so smooth and pure and lovely and I just don't see Bill with chest hair and I'm a hairy dude. I sort of listened to his reasoning and I kind of went, okay, this is what he wants I suppose we'll do this…So me and Bridget (the makeup artist) get together, have an intimate moment in the makeup room with 14 other people and I shave my chest and we get round to doing it and then someone goes, 'You know what? We've already shot you with your top off in the first episode and you were totally hairy,' and I just hadn't even remembered it. That particular director, we then found out, had a thing about hair, he didn't have any, let's put it that way. I've gone back to being hirsute."
Suffice it to say, manscaping isn't the only struggle that Moyer has had to deal with playing a vampire. Season 3 was a very tough season for Bill and Sookie (Anna Paquin), and their on and off love affair looks to be officially off in season 4. However, it looks as if Bill has found something else to occupy his time. So, what else can we expect from Bill in season 4?
"This season's about everyone trying to move on. Last season Sookie went away and and everybody has had to get by in her absence. Things have changed a little bit and when she does finally make it back, the shift is very noticeable. I think it gave the writers a great opportunity to f*ck with the audience's head. (Laughs)"
At the end of the day, Moyer gets to leave the set as a human, go home with Paquin (whom he married last year), and immerse himself in all things that he misses about England. One thing very close to his heart? Marmite. And something he calls "spag bowl", which is the US version of spaghetti bolognese. Sounds, well, it sounds like something Lafayette might go off about if a customer were to call one of his specials by that name. Click here to read Moyer's interview in its entirety.
Season 4 premieres tonight on HBO!
Source: Pop Eater – Stephen Moyer Knows His Love Story Is a Cliche: Our Resolve to Not Date 'Didn't Last Long'
Photo Credit: HBO