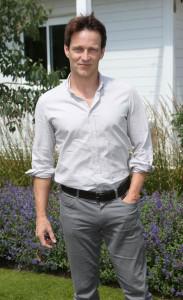 In this week's Ask Ausiello column, TV Line founder Michael Ausiello revealed a quote from his interview with Stephen Moyer (Bill Compton) that didn't make it into the final post. It was in response to a fan asking whether or not there was any True Blood scoop available or not. The quote isn't exactly spoilery but it is quite interesting. Stephen says he's not worried about how Bill is perceived anymore:
"One has to stop worrying about how one's character is perceived. I think we all probably had a point in the series where you did worry about the public persona of our character. But I stopped worrying about that in Season 2. That's not to say I don't care. What I mean is you're going to stop playing something authentically if you're worried about how it's going to be perceived."
What do you think Truebies? Sound off in the comments below!
Source: TV Line.com- "Ask Ausiello: Spoilers on Grey's Anatomy, Dexter, Mad Men, NCIS: LA, Criminal Minds and More!"
Image Credit: Tim Whitby, Getty Images