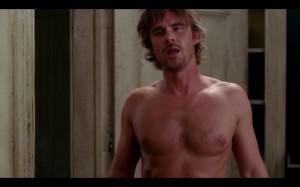 True Blood season 4 kicks off tonight on HBO and one of the series' fan favorites, Sam Trammell, is looking forward to the fans seeing what his alter ego, Sam Merlotte, will experience this season. Sam battled some personal demons in season 3 and we saw a side to him that maybe many of us weren't prepared to see.  Don't fret, Truebies. It sounds like Sam bounces back from the dark side in season 4, with the help of a new love interest. Trammell told the Los Angeles Times this weekend:
"Last season, Sam sort of excommunicated his biological family, and he gains a new family in a sense because he meets this person who's also a shape-shifter, named Luna (Janina Gavankar). And she has a lot of mystery about her, and as the season goes on, he discovers more and more about her and is surprised. She's an exciting, very intriguing, very alluring person for Sam."
Wait, we're jumping ahead a bit. We certainly can't gloss over how season 3 ended for Sam! He had just tracked down his little brother Tommy (Marshall Allman) after Tommy broke into Sam's safe and stole a bagful of cash. We can't knock Sam for being frustrated with his often thuggish little brother, especially since this isn't the first time Tommy tried to steal from Sam, but what happened next elicited more than a few gasps:
"He stole some money from me, from a safe in my office, and I tracked him down — literally ran him down in the woods. I pulled a gun on him, said, "Give me the money." He said, "You're not going to shoot me" and walked away. Cut to me and I fired the gun. It's already been revealed that Tommy is not dead — he's in the fourth season — but there's a cliffhanger about what happened when I fired."
We've seen a few shifters in the past three seasons of True Blood, and Trammell can't hide his excitement when he talks about the shifter community playing a larger role in season 4:
"Yeah, we're going to meet a group of shape-shifters. We've learned the rules of what vampires can and can't do. With shape-shifting, we really haven't seen that much…We're going to explore all of that, and that's what I get excited about, when you look at the rules of the supernatural beings…The shape-shifter appears in many different cultures, but one is Native American. That's one of the ones we're going to take a look at this year. Every culture has a different view of what they are, and they play different roles in different cultures and different rules govern them. We're going to have to pick and choose and create our own reality with shape-shifters. It's really cool."
To read Trammell's interview in its entirety please click here.
Source: Los Angeles Times - The Sunday Conversation: Sam Trammell
Photo Credit: HBO