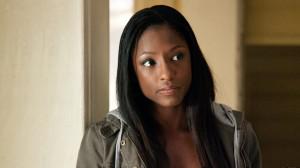 Rutina Wesley's character on True Blood, Tara Thornton, has lead a fairly hectic life the last three seasons. She has struggled to: hold a job, maintain a relationship with her abusive mother, rid herself of a demon, stay alive, and to trust, well, anyone. She's also dealt with some serious anger issues. When season 3 ended with her chopping her hair off and riding off into the night, we certainly didn't blame her for wanting to get out of Bon Temps. Wesley recently sat down with PopSugar to discuss life as Tara, being a member of the True Blood family, and what to expect in season 4.
Wesley joined the cast of True Blood in the fall of 2007, replacing Brooke Kerr who had already shot a couple of episodes of season one. Then, the Writers Guild of America strike happened, which shut down production of season one until September of 2008. However, by that point, the majority of the cast had already formed a strong bond, looking to one another not just as colleagues, but as friends and even family. When shooting picks up for a new season, Wesley admits that seeing one another on-set is usually a giddy experience:
"We just get stronger and stronger as family. We truly do love each other. And me and Anna (Paquin) hang out off-set; that's my girl."
Wesley's girl off-set may be Paquin, but on-set, Wesley's #1 girl is Tara. The range of emotions Wesley has mastered to bring Tara to life is pretty impressive, and Wesley is looking forward to what will happen to Tara in season 4: 
"I definitely think her luck will change. I think she's probably not going to be the victim anymore, hopefully…um, maybe have a little bit of happiness for a little while. She's definitely going to be faced with vampires and a whole other world of things that she would never even dream of."
There was a lot of buzz at the end of season 3 when Tara chopped her hair off, and to be honest, we thought the new do was just a wig. But, no, Wesley admits that Tara needed a cathartic experience, which in turn meant she was going to get one, as well:
"…cutting off my braids, and I've had braids for 10 years, that was sort of a big thing for me. It was very emotional. It was kind of perfect because I was really crying and I was just like 'I can't believe I'm doing this!'"
We do love Tara's new hair style and it makes her look softer, less rough around the edges. So, what's in store for Tara and the True Blood gang this season? Wesley couldn't give any juicy details, but she did gregariously entice us with the following:
"The only thing I can really tease is that it's going to be dynamic when the witches and the vampires and stuff, when they butt heads… Let the games begin!! That's all I'll say!"
Check out Wesley's interview in its entirety below.
Source: PopSugar – Video: True Blood's Rutina Wesley Dishes on What's to Come in Season Four
Photo Credit: HBO