OSTED BY LYNNPD ON NOVEMBER - 1 - 20121 COMMENT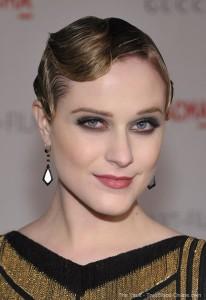 Evan Rachel Wood who played Queen Sophie Anne on True Blood, married "Billy Elliot" star Jamie Bell on Tuesday, seven years after the on-and-off couple first started dating.
Wood, who was featured in HBO's "True Blood" and starred in "The Wrestler," tweeted about the wedding, telling her followers, (click on the image to see the tweet on Twitter),

The ceremony took place in California and a spokeswoman for Wood said, "the bride wore a custom dress by Carolina Herrera. It was a small ceremony with close family and friends." Actor Max Minghella appears to have been one of the few people invited to the affair, as he tweeted, "Yesterday I got to see my best friend exchange vows with the love of his life. Still coming down from high … #TrueRomance."
Wood, 25, started dating Bell, 26, in 2005 after the pair met following co-starring roles in the Green Day video for "Wake Me Up When September Ends." At the time, they got tattoos of each other's first initials. They subsequently broke up and Wood later dated and was engaged to shock rocker Marilyn Manson, 43, whom she dated from 2006 until 2010.
Bell and Wood reconnected after she split with Manson and the pair reportedly got engaged earlier this year.
The Vault wishes ERW and her new hubby, the very best wishes for lots of happiness!
source: mtv.com